Cost
Free and open to the public
Special Event: 2023 Milwaukee Zine Fest *IN PERSON*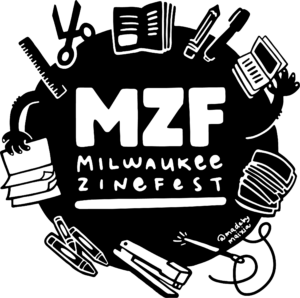 This event will be held in person at the Central Branch of the Milwaukee Public Library
(814 W. Wisconsin Ave., Milwaukee, WI 53233)
---
Milwaukee Zine Fest celebrates and promotes zine culture, DIY creative literary work, small-press publishing, and other independent, self-created publications in magazine-like format.
Founded in 2008, MZF is an annual explosion of zine-focused wonder in the form of a boisterous festival featuring over 70 vendors from across the country. It's always free to attend, and always super fun.
The single-day event is held at the Central Branch of Milwaukee Public Library, and packed with opportunities to explore and purchase various forms of DIY and independent publishing presented by diverse artists, writers, illustrators, photographers, poets—and more!
MZF is a program of The Bindery in partnership with the Milwaukee Public Library. The Bindery runs additional year-round zine programming including a collective zine publishing house and communal retail for zinesters.