Date
Oct 19 2023
Expired!
Concert: Formations Series for New & Improvised Music *HYBRID*

In person at Woodland Pattern and livestreaming via Crowdcast
Formations is a monthly music series curated by Jay Mollerskov, and dedicated to fostering the growth of new and improvised music in Milwaukee.
ATTEND VIA CROWDCAST ONLINE TICKET DONATION
---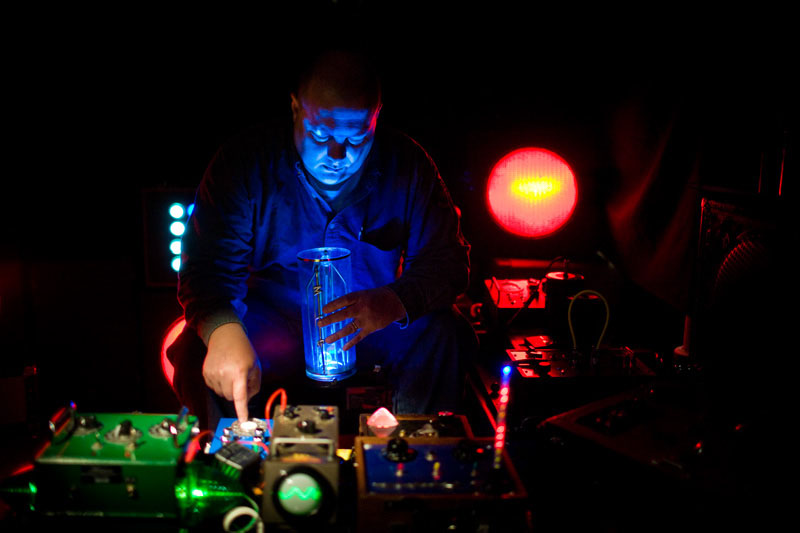 (photo credit: Tim Kaiser)
---
SET 1—Tim Kaiser
Tim Kaiser is well known in the atmospheric experimental music scene for his blending of acousto-electric contraptions and Frankenstein electronics to create ethereal, layered drones. His sonic landscapes have been called "experiments in adventurous art" and "eclectic genius" by the likes of Make Magazine, Wired, the New Art Examiner, and the Associated Press. Kaiser was featured on the PBS program MakeTV and has headlined numerous experimental music festivals in the US.
SET 2—Cool Beauty featuring Pedro Gutierrez (keyboards), John Larkin (bass), Didier LePlae (guitar), and Joe Kirschling (Samples and Trap Kit)
Cool Beauty is an infinitely flowing confluence of improvised cinematic soundscapes and resonant experimentation forged by a quartet of sonic conspirators: Pedro Gutierrez on keyboards, John Larkin on Bass, Didier LePlae on guitar, and Joe Kirschling on Samples and Trap Kit. Cool Beauty has everything you need to feel beautiful inside and out.
---
Ticket purchase is required for in-person attendance.