Date
Oct 29 2023
Expired!
Exhibition Reception: Here I Am, Standing, new work by Haerim Lee *IN PERSON*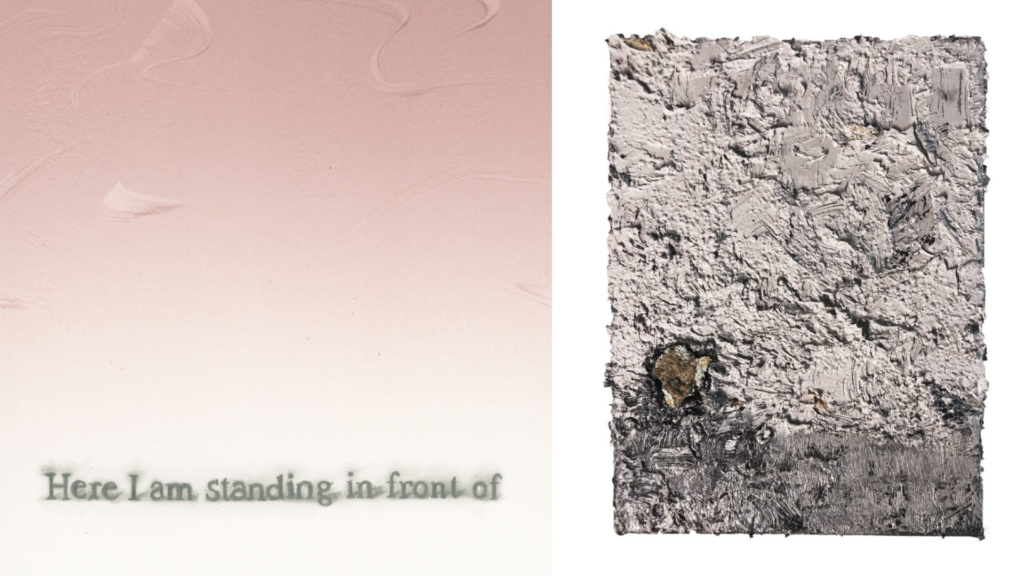 Reception 1–5 PM; Artist Talk at 2 PM | In person at Woodland Pattern
This event celebrates Haerim Lee's exhibition Here I Am, Standing, which investigates the excavation of site-specific memories surrounding the whitewashed mural All of Mankind (1972), painted by community muralist Bill Walker. During the talk, Lee will provide perspective on the future trajectory of her art practice. She will also discuss her personal experiences related to the mural and working as a community muralist, and how various encounters she and others have had with the mural have informed their artistic practices in creating inclusive spaces. She will also share the future direction of her practice related to the idea of mark-making in urban space.
---
VIEW EXHIBITION
Here I Am, Standing, new work by Haerim Lee on view October 3–December 17, 2023
Here I Am, Standing in front of the Strangers Home Missionary Baptist Church in Chicago's Cabrini Green, remembering the stories surrounding Bill Walker's mural All of Mankind (1972) that used to be here. On December 10th, 2015, the new owner whitewashed the mural while a small group was in the midst of raising funds to preserve it. I have been conducting field trips here since 2017, and while doing so, I discovered someone scraped the whitewashed mural to see the imagery underneath. I also tried to see underneath but only found layers of paint skin peeling from the wall. This disappeared image marks an important oral history, a collective memory. It is a history that is polyvocal—in a way, it is authentic, genuine, and a shared story. Through my studio practice, I question how to preserve oral histories and how to create inclusive spaces through examining counter-narratives. I question the idea of visibility and invisibility—who gets honored and remembered in history and who gets forgotten.
Haerim Lee's art stimulates dialogue with communities through painting, public murals, ceramics, artist books, and photography. Her practice is rooted in ethnographical research, and critiques institutionalized demarcations of power. Originally from S. Korea, a monoethnic country, she is interested in multi-racial dynamics, particularly in the South Side of Chicago where she is currently living—a neighborhood with diverse ethnicities from different
backgrounds and cultural heritages. Living in this particular environment, as opposed to within a homogenous culture, helps her to learn the stories of her neighbors and to work alongside them to create localized learning spaces born from a shared vision.
Lee graduated from the School of the Art Institute of Chicago (SAIC) with an MFA in Painting and Drawing and an MA in Visual and Critical Studies, and she was an instructor in Arts and Street Culture at SAIC. She has had solo shows at Parlour and Ramp (2021), Gallery Noone (2017), and Kasia Kay Art Project (2012) in Chicago, and Youngeun Museum of Contemporary Art (2012) in S. Korea. She has participated in group shows including Autoethnography (2021) at Heaven Gallery Chicago, Artists Run Chicago 2.0 (2020) at the Hyde Park Art Center, Young Eunji Keeps Memories: Consistently (2020) at Youngun Museum of Contemporary Art in S. Korea, Korean Eye: 2020 (2019), Out of Context (2019) at Chicago Artist Coalition, The Art of Being Dangerous (2018) at the Hyde Park Art Center, and The Body (2010) as a part of the Chicago Humanities Festival.