Date
Apr 03 2022
Expired!
Cost
$50 General ($45 Members)
How to Haiku: Exploring the Power of Seventeen Syllables *IN-PERSON WORKSHOP*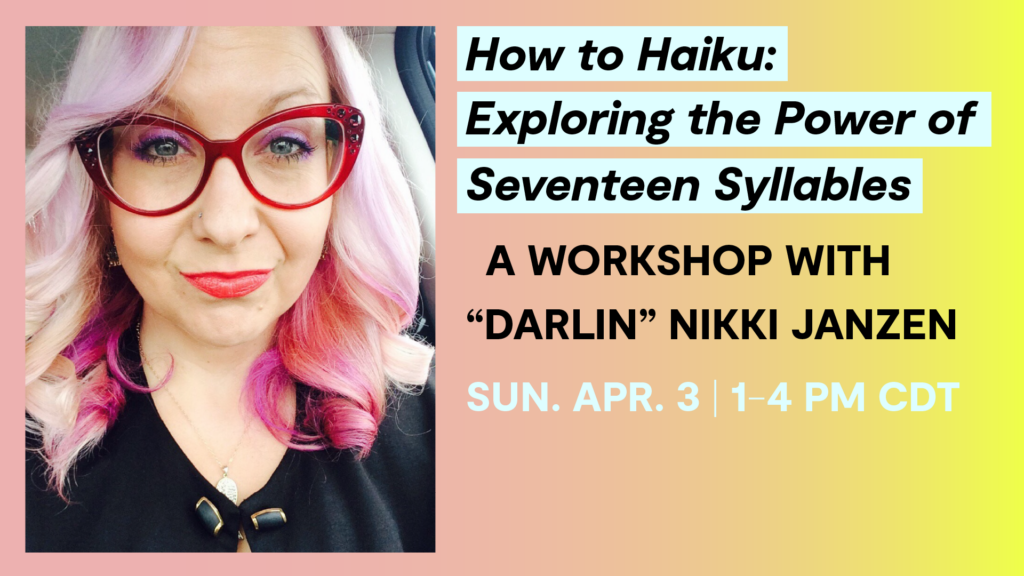 This workshop will be held in person at Woodland Pattern. All attendees must show proof of vaccination or negative Covid test within 72 hours. Masks are required. Thank you for helping us keep our community safe.
A limited number of scholarships are available. Writers who are low-income and/or of marginalized identities are particularly encouraged to apply.
REGISTER
APPLY FOR SCHOLARSHIP
In this workshop we will explore an overview of haiku history, and of present day Slam culture, as we encounter several different styles of classic and contemporary haiku. Participants will experiment in writing their own haiku, and we'll conclude with sacred recitation tips. 
Participants are also encouraged to register for the in-person Haiku Slam and Poetry Showcase at Woodland Pattern on Sun. Apr. 10 at 1 pm CDT. Nikki will host this event. See below for more details.
"Darlin" Nikki Janzen is a Social Justice Educator, Consultant, Restorative Justice Workshop Change Agent, CEO of OneLovePoetics LLC, Performance Poet, Mentor, Mixed Media Artist, and Healing Goods Creator working in various nonprofits, while serving Milwaukee Public Schools in several capacities since 2001. She is also an Adjunct Professor for Viterbo University. Her highest honor is working to create safe spaces for others to experience healing through art forms. 
Nikki has traveled around the country sharing spoken word, working to use poetry as a bridge between cultures. She is the CEO of OneLovePoetics and has been featured in the Shepherd Express, the Milwaukee Journal Sentinel, and the CrossHatxh Poetry Series, and on LTYM Milwaukee and Youth Rise Radio. She has also been published in multiple anthologies, is a two-time Grand Slam Spoken Word Champion of Milwaukee, a 2008 WOW Haiku Slam Champion, the 2007 MMAPSE Teacher of the Year, and a 2008 BET Regional Slam Winner. She has self-published four chapbooks, two restorative poetry albums—Unstitch the Sun and Healing Broken—and has published countless youth poetry anthologies and spoken word videos. Learning to Love Like the Rising Sun: Poetry and Prompts for Anti-racist Healing will be available in the summer of 2022.
Then join us on Sunday, April 10 from 1-3 pm CDT for a Haiku Slam and Poetry Showcase 
Who will be named Milwaukee Haiku Winner of 2022? Following on her How to Haiku workshop, "Darlin" Nikki Janzen will host a Haiku Slam and Poetry Showcase that is open to all. Slammers must sign in by 12:40 pm the day of and bring your 20 favorite, originally written haiku (17 syllables—in any order or line form)
This is a *HYBRID* event. Register to attend in person at Woodland Pattern or online via Crowdcast here.