Panel Discussion: Latinx Poetics: Essays on the Art of Poetry *HYBRID*
Panel Discussion celebrating the publication of Latinx Poetics: Essays on the Art of Poetry (University of New Mexico Press, 2022) featuring anthology editor, Ruben Quesada, and contributors, Brenda Cárdenas, Daniel Borzutzky, and Laurie Ann Guerrero. This program is part of Unwriting Borders, an ongoing series sponsored by the National Endowment for the arts.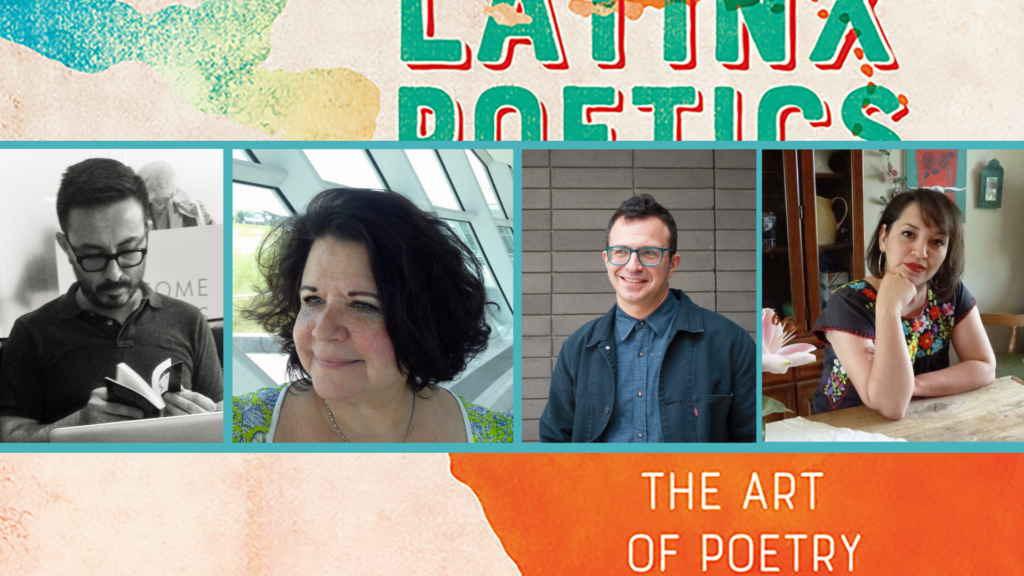 In person at Woodland Pattern and livestreaming via Crowdcast
ATTEND VIA CROWDCAST $GIVE WHAT YOU CAN
Register for in-person attendance below.
---
In the past 20 years, more Latinx poets have published collections of poetry than in the entire 20th century. With this in mind, Ruben Quesada edited the anthology Latinx Poetics: Essays on the Art of Poetry(University of New Mexico Press, 2022). Drawing from their intersectional racial, gender, and linguistic identities and nationalities from the Latin American diaspora, the panelists (all contributors to the anthology at various stages in their careers) will discuss their essays, offering divergent views on the reading and writing of poetry with focus on the larger question of defining or framing Latinx poetry and poetics. 
Ruben Quesada is editor of Latinx Poetics: Essays on the Art of Poetry  (University of New Mexico Press, 2022), author of Revelations (2018) and Next Extinct Mammal (2011), and translator of Selected Translations of Luis Cernuda (2008). Quesada has served as an editor for The Rumpus, Chicago Review of Books, AGNI, Pleiades, and The Kenyon Review. His writing appears in Best American Poetry, Ploughshares, Guernica, American Poetry Review, and Harvard Review. He has been honored by the Department of Cultural Affairs and Special Events in the City of Chicago, Canto Mundo, Lambda Literary Writers' Retreat, Community of Writers, Napa Valley Writers Conference, and Vermont Studio Center. Quesada has taught courses on poetry and poetics for Vermont College of Fine Arts, Northwestern University, Chicago High School for the Arts, School of the Art Institute, Columbia College Chicago, and the University of California, Riverside. He is an Associate Teaching Fellow at The Attic Institute and teaches for the UCLA Writers' Program. He currently serves on the National Book Critics Circle (NBCC) board.  
Daniel Borzutzky is a poet and translator who lives in Chicago. His most recent book is Written After a Massacre in the Year 2018 (2021). His 2016 collection, The Performance of Becoming Human won the National Book Award. Lake Michigan (2018) was a finalist for the Griffin International Poetry Prize. His other books include In the Murmurs of the Rotten Carcass Economy  (2015); Memories of my Overdevelopment  (2015); and The Book of Interfering Bodies  (2011). His translation of Galo Ghigliotto's Valdivia won the 2017 National Translation Award, and he has also translated collections by Raúl Zurita and Jaime Luis Huenún. He teaches in the English and Latin American and Latino Studies Departments at the University of Illinois at Chicago.
Brenda Cárdenas is the author of Trace (forthcoming, Red Hen Press), Boomerang (Bilingual Press), and the chapbooks Bread of the Earth / The Last Colors with Roberto Harrison; Achiote Seeds / Semillas de Achiote with Cristina García, Emmy Pérez, and Gabriela Erandi Rico; and From the Tongues of Brick and Stone. She also co-edited Resist Much/Obey Little: Inaugural Poems to the Resistance and Between the Heart and the Land: Latina Poets in the Midwest. Cárdenas' poems have appeared in many anthologies and journals, including Kinship: Belonging in a World of Relations; Grabbed: Poets and Writers on Sexual Assault, Empowerment, and Healing; Ghost Fishing: An Eco-Justice Anthology; POETRY; and The Wind Shifts: New Latino Poetry. Cárdenas served as faculty for the 2021 CantoMundo writers' retreat and as the 2010-2012 Milwaukee Poet Laureate. She currently teaches Creative Writing and U.S. Latinx Literature at the University of Wisconsin-Milwaukee.
Laurie Ann Guerrero, born and raised in the Southside of San Antonio, is the author of four collections: Babies under the Skin (Panhandler 2008), A Tongue in the Mouth of the Dying (University of Notre Dame Press, 2013), A Crown for Gumecindo, a collaboration with visual artist Maceo Montoya (Aztlan Libre Press, 2015), and I Have Eaten the Rattlesnake: New & Selected (TCU Press, 2021). Guerrero was appointed Poet Laureate of San Antonio (2014–2016) and of Texas (2016–2017); holds degrees from Smith College and Drew University; and is the Writer-in-Residence at Texas A&M University-San Antonio, where she teaches writing and gender studies. She is currently at work on her fifth collection, a mix of traditional and visual poems and essays.
ATTENDING IN PERSON? WE'VE UPDATED OUR COVID POLICY! 
Registration is required for in-person event attendance, as is a nominal ticket donation to hold seats. Gallery attendance is limited to 20 audience members. Masks are required. Thank you for helping to keep our staff and community safe. Each attendee must register individually.
.