#LetsPlay—Obsidian's Playground Issue Launch *ONLINE*
A Reading and Conversation made possible with support from the National Endowment for the Arts and part of our ongoing series Visions in Publishing (aka Small Press Appreciation).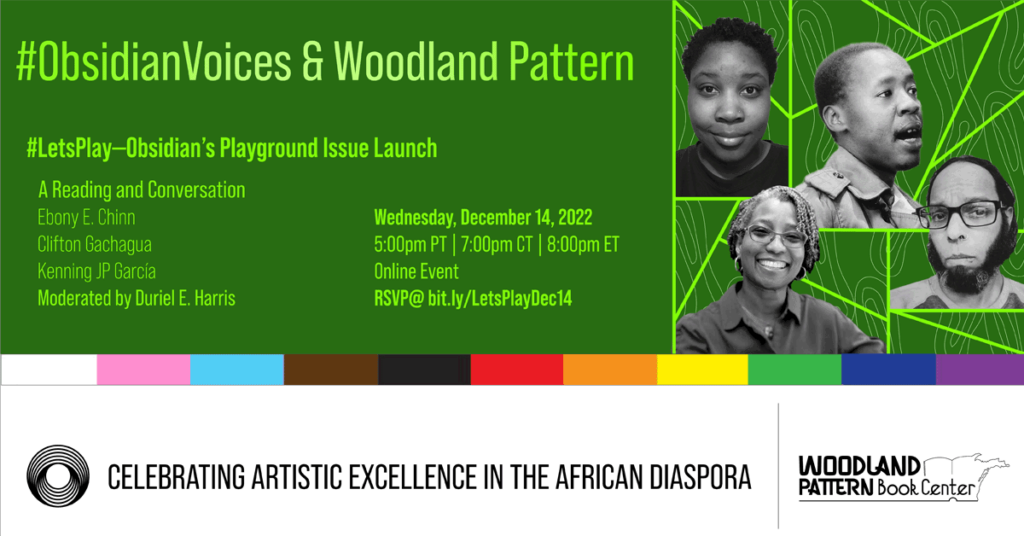 Obsidian: Literature & Arts in the African Diaspora has partnered with Woodland Pattern to celebrate the launch of Obsidian's LGBTQIA+ Gender Queer / Genre Queer Playground Special Issue, volume 48.2, guest edited by poet, performer, and multi-disciplinary artist Ronaldo V. Wilson. This special issue of Obsidian features work that moves between terror and isolation to joy as possibility, necessity, and form. Emerging and established writers and artists seek to make possible different experiences of ourselves and our world through queering form, content, and genre.
The event will be presented by Obsidian Voices & Woodland Pattern and will include sharings by contributors to the issue Ebony Chinn, Clifton Gachagua, and Kenning JP Garcia, and a talk moderated by Editor Duriel E. Harris.
For more information or to pre-order the PlayGround Issue visit: https://obsidianlit.org/
Tag. You're It. Come play! 
---
Obsidian: Literature & Arts in the African Diaspora is a peer-reviewed publishing platform (journal + website) published by the Publications Unit, Department of English, Illinois State University, a body corporate and politic of the State of Illinois and a 501(c)(3) recognized charitable and non-profit organization.
Ebony E. Chinn is from New Jersey. She has received fellowships from the Callaloo Creative Writing Workshop and the Bread Loaf Writers' Conference. She holds an MFA from the University of Alabama. Her work has appeared or is forthcoming in Lolwe, DIAGRAM, Frontier Poetry, Narrative, and Callaloo.
Clifton Gachagua is the winner of the Sillerman Prize for African Poetry. He is the author of Madman at Kilifi and appears in a chapbook box set, Seven New Generation African Poets. His work appears in Manchester Review, Africa39, Africa Writers Trust, Saraba, Jalada, Kwani?, Harvard Divinity Journal, Poetry Foundation, The Gonjon Pin and Other Stories, AfroSF, Sunspot Jungle, PEN America, Enkare.
Kenning JP García is an asexual diarist, humorist, performer, and antipoet. Xe is the author of With (Really Serious Literature) and is an editor at Rigorous and Dream Pop Press.
Duriel E. Harris is a writer, performer, artist, and scholar. She is the author of three critically acclaimed volumes of poetry, including No Dictionary of a Living Tongue (Nightboat, 2017), Drag (2003), and Amnesiac: Poems (2010). Multi-genre works include the one-woman theatrical performance Thingification, the video collaboration Speleology (2011), and the sound+image project "Blood Labyrinth." Cofounder of The Black Took Collective, Harris is Professor of Poetry and Poetics at Illinois State University and Editor in Chief of the award-winning publishing platform Obsidian: Literature & Arts in the African Diaspora.
---
$GIVE WHAT YOU CAN
This event is free to attend but registration is required. Thank you!