Date
Jun 14 2022
Expired!
Poetry in the Park 2022 *IN PERSON*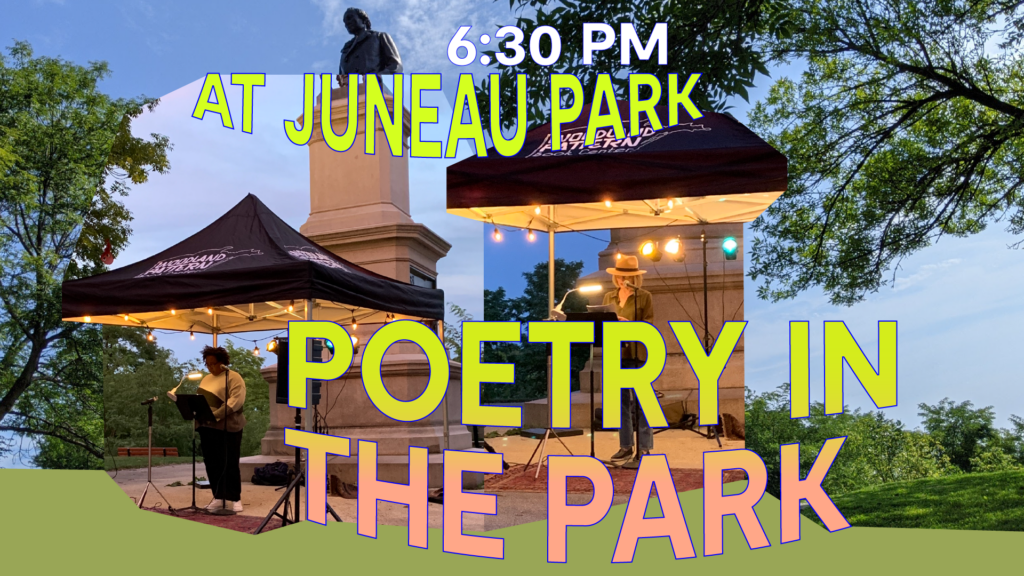 The following events will take place in person at Juneau Park, 900 N. Prospect Ave. 
Bring your blankets and chairs, snacks and drinks, and friends, and join us at the Solomon Juneau statue for this beloved summer reading series, now entering its eighth year. Poetry in the Park takes place in Juneau Park on the second Tuesday of June, July, August, and September, with rain dates scheduled on the second Wednesday of each month. This season's events are made possible with support from Juneau Park Friends, the National Endowment for the Arts, and Village Church. 
---
Tue. June 14 | 6:30 PM
Rain date: Wed. June 15 
Featuring readings from Abraham Smith, Steve Timm, Mario "The Poet" Willis, and Thulani Davis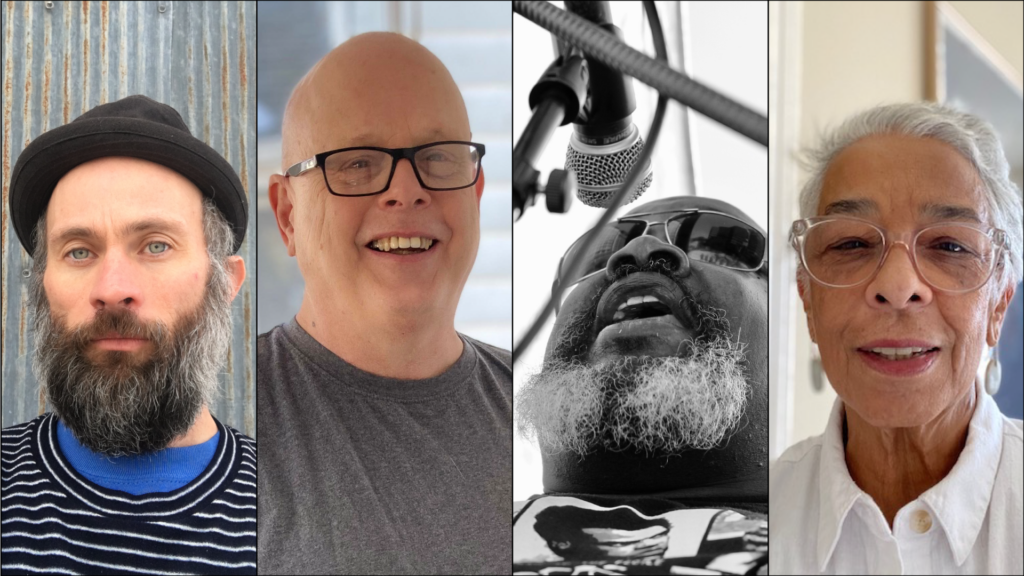 Abraham Smith's recent publications include the chapbook Bear Lite Inn (New Michigan Press, 2020), the full-length Dear Weirdo (Propeller Books, 2022), and the forthcoming Insomniac Sentinel (Baobab Press, 2023). Away from his desk, he improvises poems inside songs with the Snarlin' Yarns; their debut record Break Your Heart was released on Dial Back Sound in Fall 2020. He lives in Ogden, Utah, where he is associate professor of English and co-director of Creative Writing at Weber State.
Steve Timm's newest book of poems is Rule of Composition (Bananaquit Press, 2022). It was preceded by This's That (There Press, 2016), Un storia (BlazeVOX Books, 2010), and Disparity (BlazeVOX Books, 2006). His live performances are known for ending explosively with an improvised sound poem. He lives with his wife Shari Bernstein and son Alex (who finds his poems "interesting") in Madison, where he teaches English as a second language at the University of Wisconsin.
Mario "The Poet" Willis is a Milwaukee native, community activist, frequent Hunger Task Force volunteer, and a member of Autism Speaks (being the father of an autistic child). Having come to poetry later in his life, Mario is mostly autodidactic. As a member of Still Waters Collective, Mario, having foregone a traditional education in poetry, was mentored and deeply influenced by former state and city Laureate Dasha Kelly Hamilton. In addition, Mario has extensively workshopped with several nationally renowned spoken word artists and poets. As an active poetry blogger, podcaster, and spoken word artist, Mario has become a mainstay at one of the longest running Open Mic venues in the city, Poets' Monday at Linneman's Riverwest Inn. Having fostered a strong community of loyal supporters and friends throughout his 16 years in performance art, Mario now serves as Milwaukee Poet Laureate.
Thulani Davis is a professor and a Nellie Y. McKay Fellow in the Afro-American Studies Department at the University of Wisconsin–Madison. She is the author of six books, a dozen theater works and has had a career in journalism. Davis wrote the libretti for Anthony Davis's X: The Life and Times of Malcolm X (1986), and his Amistad (1997). She is working now with composer Bernadette Speach on The Little Rock Nine, and with Davis on Fire Across the Tracks: Tulsa 1921. Davis has also written the book and lyrics for The Sojourner Washing Society, A Musical in Gospel & Blues, with Steven Robinson (2014). Davis has written the scripts for several narrative films, as well as award-winning documentaries, including Louis Massiah's W.E.B. Du Bois: A Biography in Four Voices (1996) and developed the concept for the PBS series, I'll Make Me a World: A Century of African American Arts (1999). Her most recent books are the poetry collection Nothing but the Music, released in December 2020 by Blank Forms Editions, and a study of Reconstruction, forthcoming from Duke University Press, titled The Emancipation Circuit: Black Activism Forging a Culture of Freedom.
Tue. July 12 | 6:30 PM
Rain date: Wed. July 13 
Featuring readings from Portia Cobb, Lane Hall, Zack Pieper, and Duriel E. Harris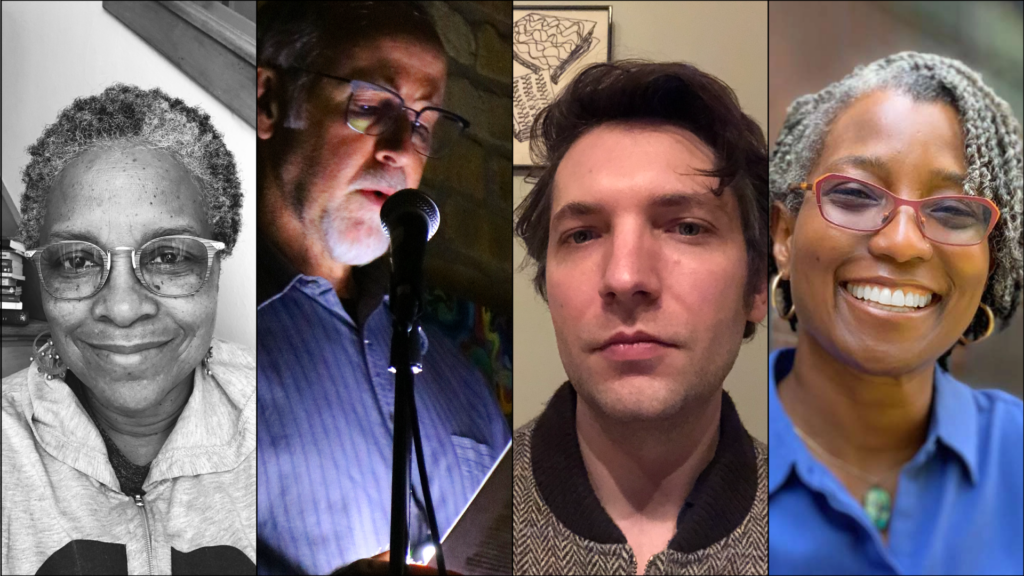 Portia Cobb is a multi-hyphenated artist and poet deeply interested in telling stories that reflect the double consciousness of Black American identity, history, memory, and forced forgetting. Her body of work and research has joined these themes within her poems, short-form documentary video, photographic essays, field recordings, collaborative installation, and community-engaged performance art. She teaches at University of Wisconsin–Milwaukee, in the Department of Film, Video, Animation and New Genres.
Lane Hall is a multimedia artist, writer, and professor in the Department of English at University of Wisconsin–Milwaukee, where he teaches courses on modernist avant-garde movements as well as workshops exploring image and text relationships within book and screen formats. His installations have been exhibited at the Brooklyn Museum, the Milwaukee Art Museum, the California Academy of Sciences, the Shanghai World Expo, the Science Gallery in Dublin, and Eyebeam in NYC. He is co-founder of the Overpass Light Brigade (OLB), a collaborative creative activism project with local roots that has been widely adopted and disseminated. More information about his work can be found on his website www.badscience.org/.
Zack Pieper is a poet, performer, and recording artist, living in Milwaukee. His poems have appeared in editions from Bright Pink Mosquito, Martian Press, Rust Buckle Books, Disappearing Book Series, and Dodo Bird. He has performed at Detroit's People's Biennial at MOCAD, collaborated on "Hello Caller"—an experimental/explorative call-in radio show—and recently released "The Last CDR On Earth", amongst other works centered around live transmission and recorded audio. He has edited for OW and Everyday Genius (Publishing Genius), and is a co-founder of Activities, an archive of songs, albums, and sound experiments spanning several decades of Milwaukee and Midwest-based musicians and multidisciplinary artists. He is the author of CAMEOS (VOL.1), recently published by Extra Copies.
Duriel E. Harris is a poet, performer and sound artist. She is author of three print volumes of poetry, including her most recent, No Dictionary of a Living Tongue (Nightboat, 2017), Drag (2003) and Amnesiac: Poems (2010). Multi-genre works include her one-woman theatrical performance Thingification, and Speleology (2011), a video collaboration with artist Scott Rankin. Cofounder of the avant garde trio, The Black Took Collective, Harris has been a MacDowell and Millay Colony fellow and has received grants from the Illinois Arts Council Agency, the Cave Canem Foundation, and the Rockefeller Brothers Fund. Her work has appeared in numerous venues, including BAX: Best American Experimental Writing, The &Now Awards, Of Poetry & Protest, Ploughshares, Troubling the Line: Trans and Genderqueer Poetry and Poetics, and The Best of Fence. The 2018 Offen Poet, Harris is an associate professor of English in the graduate creative writing program at Illinois State University and the editor of Obsidian: Literature & Arts in the African Diaspora.
Tue. Aug. 9 | 6:30 PM
Rain date: Wed. Aug. 10
Featuring readings from Sass Denny, Paul Druecke, Ed Roberson, and Nikki Wallschlaeger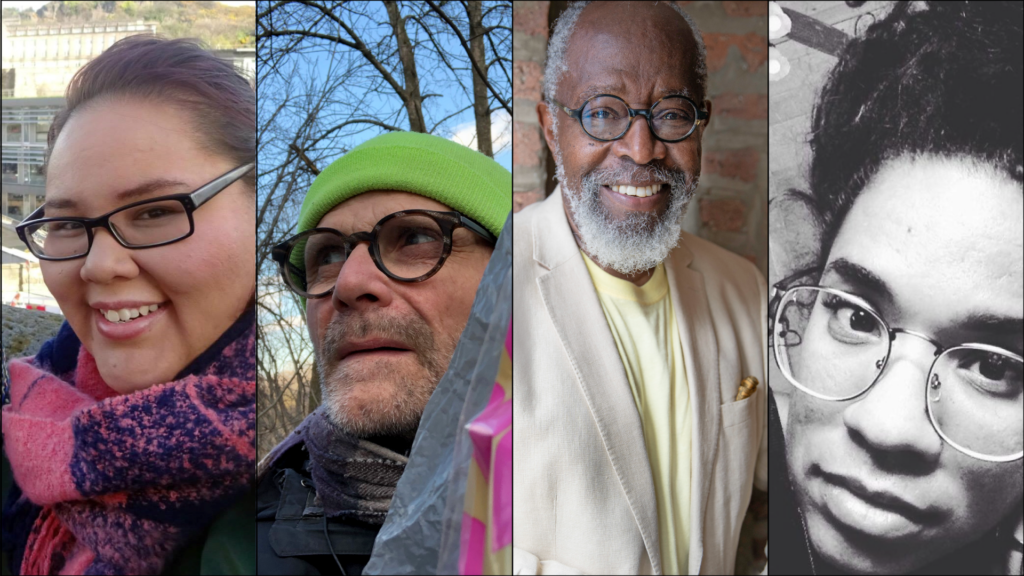 Sass Denny is an Oneida/Ojibwe writer and graduate student in Creative Writing at University of Wisconsin–Milwaukee. She is Poetry Editor for Cream City Review. 
Paul Druecke is a writer and artist. His ongoing project America Pastime was recommended by the New York Times (2021). His work with public inscription was included in the 2014 Whitney Biennial and featured in Blackwell and Wiley's Companion to Public Art (2016). He has published two books, Life and Death on the Bluffs (2014) and The Last Days of John Budgen Jr. (2010). Druecke's interdisciplinary projects explore the fault lines of social convention.
Ed Roberson is the author of twelve books of poetry, most recently MPH and Other Road Poems (Verge Books, 2021) and Asked What Has Changed (Wesleyan University Press, 2021). A former special programs administrator at Rutgers University's Cook Campus, Roberson has lived in Chicago since 2004 and is an emeritus professor in Northwestern University's MFA creative writing program. He has also held posts at the University of Chicago, Columbia College, the University of California, Berkeley, and the Cave Canem retreat for Black writers. His honors include the Jackson Poetry Prize, the Shelley Memorial Award, the Ruth Lilly Poetry Prize, the Lila Wallace–Reader's Digest Writers' Award, and the African American Literature and Culture Association's Stephen Henderson Critics Award. Born and raised in Pittsburgh, Roberson has worked as a limnologist's assistant (conducting research on inland and coastal fresh water systems in Alaska's Aleutian Islands and in Bermuda), as a diver for the Pittsburgh Aquazoo, in an advertising graphics agency, and in the Pittsburgh steel mills.
Nikki Wallschlaeger's work has been featured in The Nation, Brick, American Poetry Review, Witness, Kenyon Review, Poetry, and others. She is the author of the full-length collections Waterbaby (Copper Canyon Press, 2021), Houses (Horseless Press, 2015), and Crawlspace (Bloof Books, 2017), as well as the graphic book I Hate Telling You How I Really Feel (2019), also from Bloof Books. She is also the author of an artist book called Operation USA through the Baltimore-based book arts group Container, a project acquired by Woodland Pattern.
Tue. Sept. 13 | 6:30 PM
Rain date: Wed. Sept. 14
Featuring readings from Terimarie Degree, Janet Jennerjohn, Rick Ollman, and Elias Sepulveda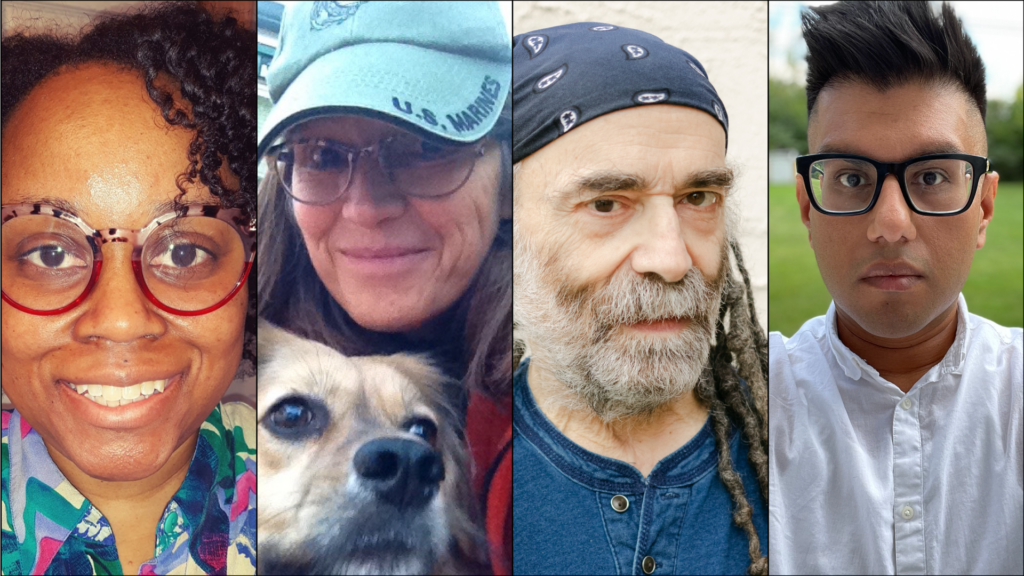 Terimarie Degree grew up with both parents serving in the US Navy. This afforded the opportunity to live everywhere from California to the Aleutian Islands of Alaska. Her work includes reflections on faith, family, relationships, coming of age in the 1980s, the beauty found in the natural world and the role people have to care for it and one another. Terimarie has a number of poems published online as well as within ten print collections.
Janet Jennerjohn is a Wisconsin poet who spends her time between Milwaukee and Door County. She is recently retired from a 35+ year teaching career in higher education and is looking forward to more time to read, write, and walk in the woods with her dog, Django Reinhund.
Poetry and music are the twin foci of Rick Ollman's artistic life. His music is freely improvised on multiple instruments, while his poetry is always pre-composed and recited from memory. These two very different approaches to performance share the goal of heightened expression combining both structure and spontaneity.
Elias Sepulveda was born in Los Angeles, CA to Mexican migrants. He currently lives and works for Milwaukee County as a Juvenile Probation Officer.