Date
Aug 09 2022
Expired!
Poetry in the Park—Aug. 2022 *IN PERSON*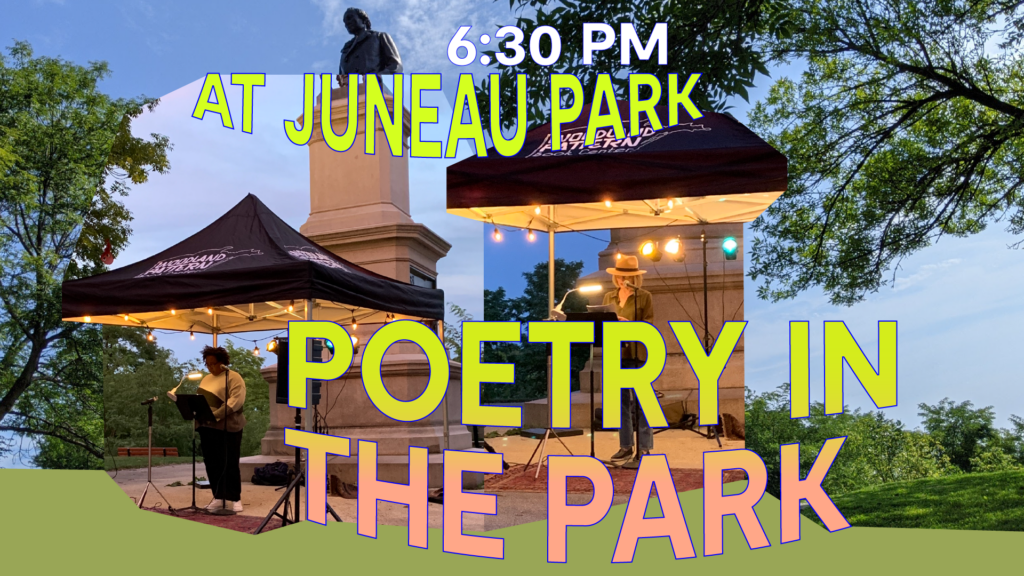 The following events will take place in person at Juneau Park, 900 N. Prospect Ave. 
Bring your blankets and chairs, snacks and drinks, and friends, and join us at the Solomon Juneau statue for this beloved summer reading series, now entering its eighth year. Poetry in the Park takes place in Juneau Park on the second Tuesday of June, July, August, and September, with rain dates scheduled on the second Wednesday of each month. This season's events are made possible with support from Juneau Park Friends, the National Endowment for the Arts, and Village Church. 
---
Tue. Aug. 9 | 6:30 PM
Rain date: Wed. Aug. 10
Featuring readings from Sass Denny, Paul Druecke, Ed Roberson, and Nikki Wallschlaeger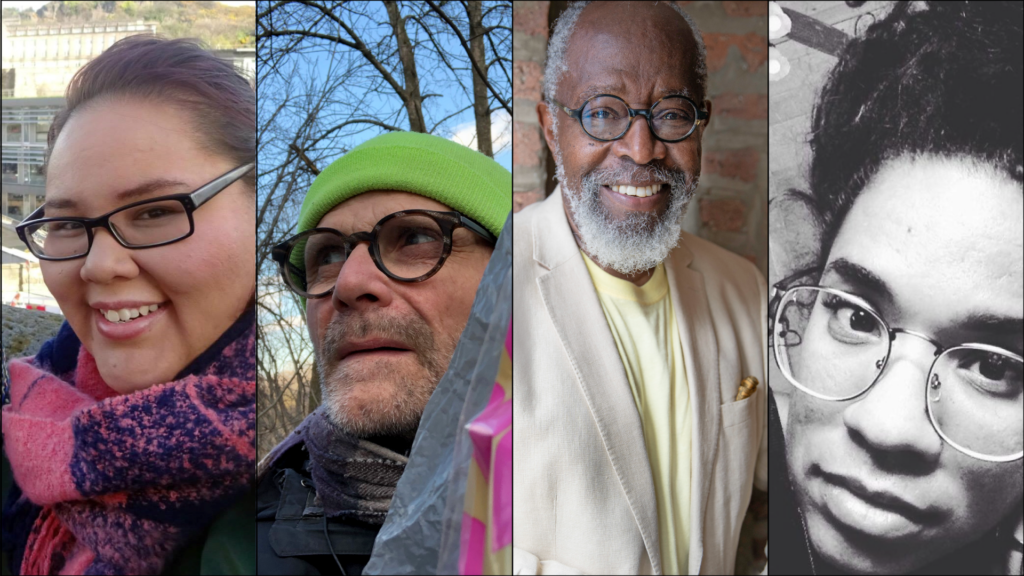 Sass Denny is an Oneida/Ojibwe writer and graduate student in Creative Writing at University of Wisconsin–Milwaukee. She is Poetry Editor for Cream City Review. 
Paul Druecke is a writer and artist. His ongoing project America Pastime was recommended by the New York Times (2021). His work with public inscription was included in the 2014 Whitney Biennial and featured in Blackwell and Wiley's Companion to Public Art (2016). He has published two books, Life and Death on the Bluffs (2014) and The Last Days of John Budgen Jr. (2010). Druecke's interdisciplinary projects explore the fault lines of social convention.
Ed Roberson is the author of twelve books of poetry, most recently MPH and Other Road Poems (Verge Books, 2021) and Asked What Has Changed (Wesleyan University Press, 2021). A former special programs administrator at Rutgers University's Cook Campus, Roberson has lived in Chicago since 2004 and is an emeritus professor in Northwestern University's MFA creative writing program. He has also held posts at the University of Chicago, Columbia College, the University of California, Berkeley, and the Cave Canem retreat for Black writers. His honors include the Jackson Poetry Prize, the Shelley Memorial Award, the Ruth Lilly Poetry Prize, the Lila Wallace–Reader's Digest Writers' Award, and the African American Literature and Culture Association's Stephen Henderson Critics Award. Born and raised in Pittsburgh, Roberson has worked as a limnologist's assistant (conducting research on inland and coastal fresh water systems in Alaska's Aleutian Islands and in Bermuda), as a diver for the Pittsburgh Aquazoo, in an advertising graphics agency, and in the Pittsburgh steel mills.
Nikki Wallschlaeger's work has been featured in The Nation, Brick, American Poetry Review, Witness, Kenyon Review, Poetry, and others. She is the author of the full-length collections Waterbaby (Copper Canyon Press, 2021), Houses (Horseless Press, 2015), and Crawlspace (Bloof Books, 2017), as well as the graphic book I Hate Telling You How I Really Feel (2019), also from Bloof Books. She is also the author of an artist book called Operation USA through the Baltimore-based book arts group Container, a project acquired by Woodland Pattern.
Tue. Sept. 13 | 6:30 PM
Rain date: Wed. Sept. 14
Featuring readings from Terimarie Degree, Janet Jennerjohn, Rick Ollman, and Elias Sepulveda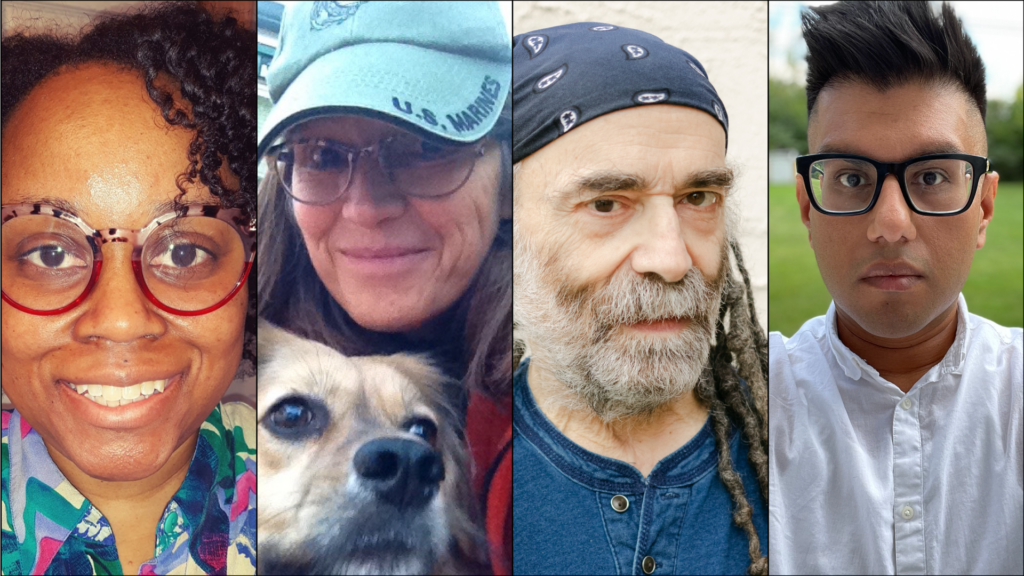 Terimarie Degree grew up with both parents serving in the US Navy. This afforded the opportunity to live everywhere from California to the Aleutian Islands of Alaska. Her work includes reflections on faith, family, relationships, coming of age in the 1980s, the beauty found in the natural world and the role people have to care for it and one another. Terimarie has a number of poems published online as well as within ten print collections.
Janet Jennerjohn is a Wisconsin poet who spends her time between Milwaukee and Door County. She is recently retired from a 35+ year teaching career in higher education and is looking forward to more time to read, write, and walk in the woods with her dog, Django Reinhund.
Poetry and music are the twin foci of Rick Ollman's artistic life. His music is freely improvised on multiple instruments, while his poetry is always pre-composed and recited from memory. These two very different approaches to performance share the goal of heightened expression combining both structure and spontaneity.
Elias Sepulveda was born in Los Angeles, CA to Mexican migrants. He currently lives and works for Milwaukee County as a Juvenile Probation Officer.