Date
Sep 07 2023
Expired!
Poetry Reading: African Poetry Book Fund *ONLINE*
Poetry Reading presented in partnership with the African Poetry Book Fund celebrating Tisa: New-Generation African Poets, A Chapbook Box Set (Akashic Books, 2023), edited by Kwame Dawes and Chris Abani. 
Featuring readings from each of the poets included in the box set: Samuel A. Adeyemi, Nikitta Dede Adjirakor, O-Jeremiah Agbaakin, Rabha Ashry, Jakky Bankong-Obi, Hazem Fahmy, Alain Hirwa, Jay Kophy, Tawiah Mensah, Phodiso Modirwa, and Nneoma Veronica Nwogu.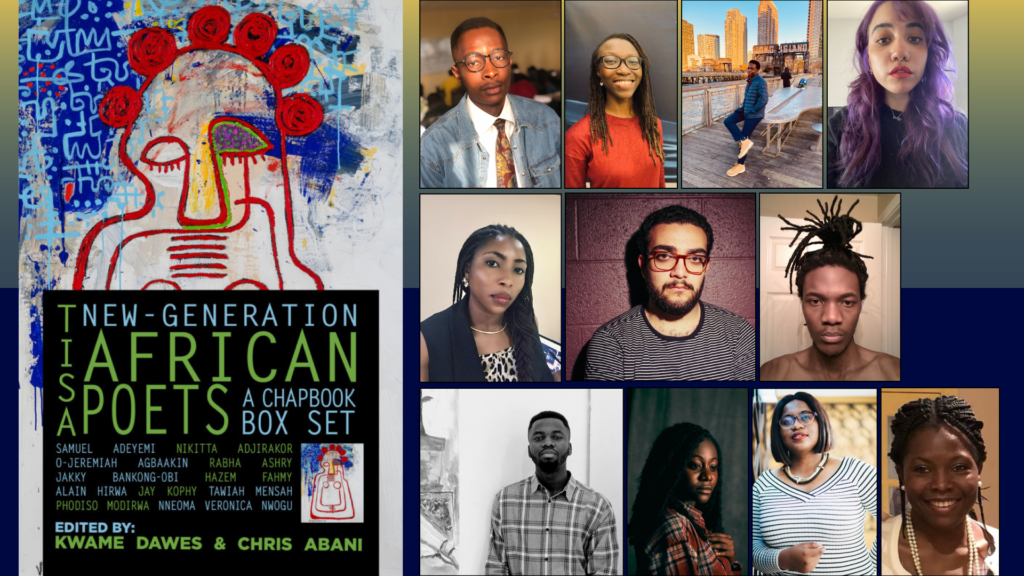 Online on Zoom
ATTEND VIA ZOOM $GIVE WHAT YOU CAN
This twelve-piece, limited-edition box set—an African Poetry Book Fund project—features the work of eleven new African poets, and is part of a series started in 2014 to ensure the publication of up to a dozen chapbooks every year by African poets through Akashic Books. The series seeks to identify the best poetry written by African poets working today, and it is especially interested in featuring poets who have not yet published their first full-length book of poetry.
Samuel A. Adeyemi is a Poetry Editor at Afro Literary Magazine. A Best of the Net and Pushcart Nominee, he is the winner of the Nigerian Students Poetry Prize 2021. His works have appeared—or are forthcoming—in Palette Poetry, Frontier Poetry, 580 Split, Strange Horizons, Agbowo, Brittle Paper, Jalada, and elsewhere. 
Nikitta Dede Adjirakor is a Ghanaian scholar and creative writer. She is currently a Postdoctoral fellow at the University of Bayreuth examining digital African language literature and popular culture. She is the producer of the film A Thousand Needles which documents African women's sexual and reproductive health stigmas. Her work can be seen nikittadede.com.
O-Jeremiah Agbaakin holds a law degree from the University of Ibadan, Nigeria. His poems are recently published or forthcoming in Beloit Poetry Journal, Guernica, Kenyon Review, Pleiades, Poet Lore, Poetry Northwest, RATTLE, West Branch, and elsewhere. A recipient of a Tin House Scholarship, he has been a finalist for the Grist Journal ProForma contest, the Chad Walsh Chapbook Series (Beloit), the Black Warrior Review poetry contest, and the Sillerman First Book Prize for African Poets. A former editor and reader for Africa in Dialogue, PANK, and Jalada Africa, he resides in Oxford, MS, where he's studying for his MFA at the University of Mississippi.
Rabha Ashry is Egyptian, from Abu Dhabi, and based in Chicago. She is the recipient of the Brunel International African Poetry Prize 2020. Her chapbook, Loving the Alien, was published by Black Sunflowers in 2021. Her work has been published in the Oyez Review, Collected 2018, Postscript Magazine, and Strange Horizons. 
Jakky Bankong-Obi is a poet from Kakwe-Beebo of Boki, Cross River State, Nigeria. She lives and writes from Abuja and her work has been featured or is forthcoming in London Grip, the Kalahari Review, Zarf Poetry, Gutter Magazine, Hobart Pulp, Pidgeonholes, Pipewrench Magazine, and Memento; An Anthology of Contemporary Nigerian Poetry, among others. Jakky is also co-editor at Icefloe Press. She is on Twitter as @jakkybeefive.
Hazem Fahmy is a writer and critic from Cairo. His poetry has appeared or is forthcoming in The Best American Poetry 2020, AAWW, the Boston Review, and Prairie Schooner. His criticism has appeared or is forthcoming in the Los Angeles Review of Books, Mubi Notebook, Reverse Shot, and Mizna. He runs the newsletter wust el-balad on Substack.
Alain Hirwa is a creative based in San Marcos, TX. His work has appeared in Wasafiri and the Carolina Quarterly. He is a student at Texas State University. 
Jay Kophy is a Ghanaian poet whose poems have been featured and are forthcoming in literary magazines such as AGNI, Lolwe, Four Way Review, Pidgeonholes, Indianapolis Review, Glass Poetry, Tampered Press, and many others. He is the winner of the inaugural Samira Bawumia Literature Prize in poetry. He is also the author of Walking on Water, selected by the Library of Africa and the African Diaspora (LOATAD) and Light Factory Publications (LFP) for the Reading the Migration Library (RML) series.
Tawiah Mensah is a native of Ekumfi Narkwa in the Central Region of Ghana. She is a graduate of the University of Ghana, where she double-majored in French and Political Science. Her work has been published in the 2021 Balance Anthology: Equanimity by CGWS, A Voice is A Voice: Resistance Issue, and Lādē Magazine.
Phodiso Modirwa is a writer and poet from Botswana. Her poetry and nonfiction have been published in 20.35 Africa: An Afroanthology of Contemporary Poetry, Brittle Paper, The Weight Of Years: An Afroanthology of Creative Nonfiction, Praxis Magazine, Jalada Africa: Bodies, Kalahari Review, Ake Review, the Rising Phoenix Review, and elsewhere. She is a recipient of the Botswana President's Award for Contemporary Poetry (2016) and recently completed a residency at the Gaborone Art Residency Centre.
Nneoma Veronica Nwogu is an Igbo-American writer, lawyer, and professor. She holds a BA from Wellesley College, an MPhil from Oxford University, and a JD from the University of Michigan. Her academic publications focus on law, justice, and development, natural resource governance, and the role of technology in development. Her literary works have appeared in the Poetry Guild, Farafina, Leverage, and the Oxonian Review of Books. With her ancestral home in Mbaise, Nigeria, she now lives in Washington, DC.