Date
Feb 23 2023
Expired!
*CANCELED* Poetry Reading: Claire Hong
Due to a winter weather warning in our area, Claire Hong's trip and the reading at the John Michael Kohler Art Center have been canceled.
---
Claire Hong will give a reading of new and existing work in response to Sarah Zapata's exhibition, a resilience of things not seen, currently on view at the John Michael Kohler Arts Center.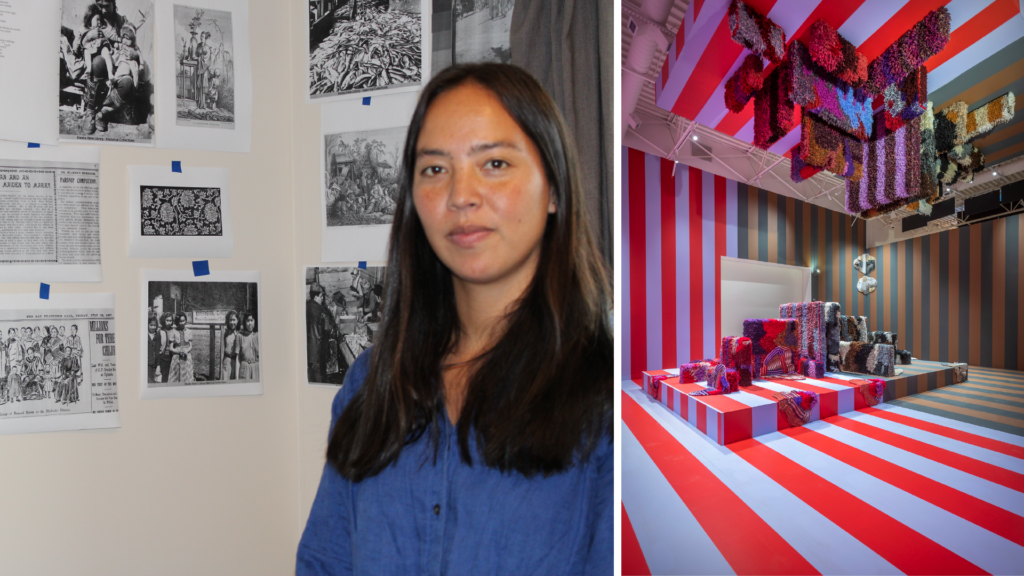 This event will be held in person at the John Michael Kohler Arts Center (608 New York Ave., Sheboygan, WI 53081)
REGISTER TO ATTEND $GIVE WHAT YOU CAN
---
Claire Hong is the author of Upend (Noemi Press, 2020), which was longlisted for the PEN/Voelcker Award. She received a Stegner Fellowship in Poetry from Stanford University (2019–21) and has creative writing degrees from the University of Arizona (MFA) and Pratt Institute (BFA). She was born in San Francisco, CA, and currently lives in Tucson, AZ, where she works to distribute arid-adapted crop seeds. Dedicated to traditional foodways, land stewardship, and multigenerational community work, she has held positions at City Slicker Farms (Oakland, CA), Radical Family Farms (Sebastopol, CA), Las Milpitas Community Farm (Tucson, AZ), the US Forest Service (Carson National Forest, NM), and Southwest Youth Services (Albuquerque, NM). She has done editorial work for Honey Literary, Pleiades, Contra Viento, DIAGRAM, the Sonora Review, and Litmus Press. 
About Sarah Zapata's a resilience of things not seen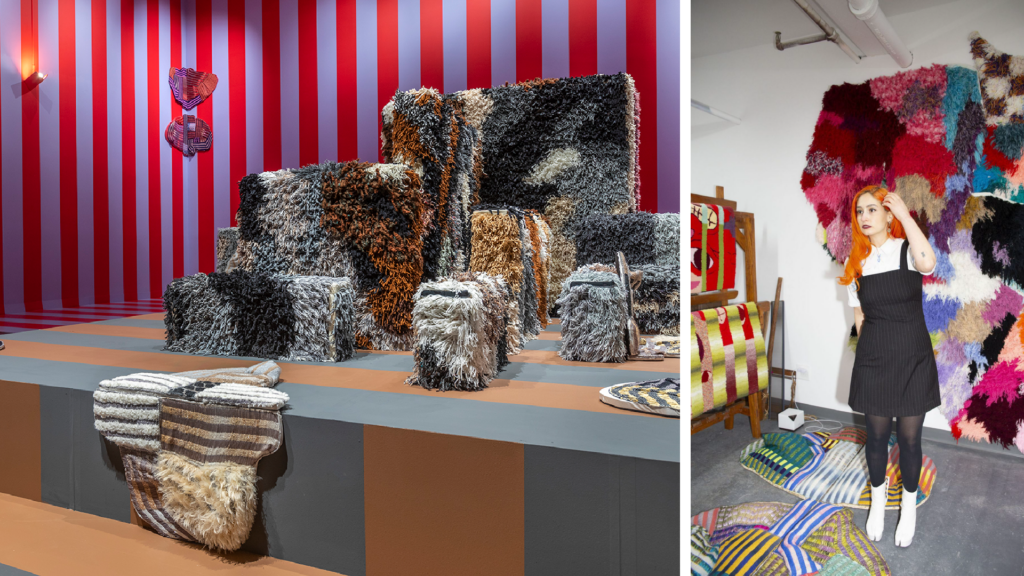 Sarah Zapata explores pre-Hispanic textile techniques and multigenerational Peruvian feminine crafts through her intricate and labor-intensive fiber work. These manual processes are combined with modern and industrial carpet manufacturing techniques in work that explores themes such as gender, ethnicity, colonialism, and performativity.
Interested in color's emotional saliency and its ability to convey meanings across time and regions, Zapata chooses her color schemes carefully. For this new immersive and site-specific commission, she reflects on the Bible book of Revelation, working in a combination of neutral colors paired with the striking boldness of purples and reds. Drawing on the apocalyptic nature of this text, Zapata uses this installation to engage her relationship to fear—particularly as stoked by the pandemic and other events of the past year. Ultimately, the work is her vision of an undetermined but optimistic in-between space: a resilience of things not seen, or, hope.
Sarah Zapata is a writer and visual artist who lives and works in New York. She graduated with a BFA in fibers from the University of North Texas–Denton and currently explores prehispanic textile techniques and multi-generational Peruvian feminine crafts.  
Zapata's work has been exhibited in solo and group exhibitions at the Museo Mate, Lima, Peru; New Museum; El Museo del Barrio; Museum of Arts and Design, New York; Leslie-Lohman Museum of Gay and Lesbian Art; and other arts institutions around the globe. She has been part of the residency programs at the Museum of Arts and Design, New York; MASS MoCA; A-Z West, and Wave Hill.