Date
Nov 13 2021
Expired!
Poetry Reading: Aja Couchois Duncan, Roberto Harrison, & Paolo Javier *HYBRID*
Poetry Reading with Aja Couchois Duncan, author of Vestigial (Litmus Press, 2021), Roberto Harrison, author of Tropical Lung: EXI(S)T(S) (Omnidawn Press, 2021), and Paolo Javier, author of O.B.B. (Nightboat Books, 2021).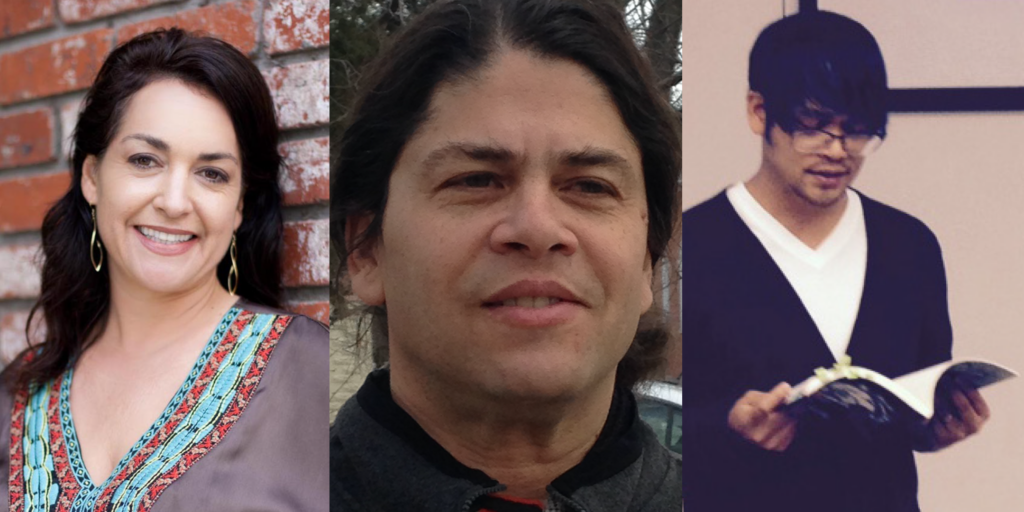 In-person at Woodland Pattern and live streaming via Crowdcast.
(Register to attend in person, below.)
ATTEND VIA CROWDCAST  $GIVE WHAT YOU CAN
Aja Couchois Duncan is a social justice coach and capacity builder of Ojibwe, French, and Scottish descent who lives on the ancestral and stolen land of the Coastal Miwok people. Her debut collection Restless Continent (Litmus Press, 2016) was selected by Entropy magazine as one of the best poetry collections of 2016 and awarded the California Book Award for Poetry in 2017. In 2020, Sweet Land—a collaborative opera project which brought together composers Raven Chacon and Du Yun, librettists Aja Couchois Duncan and Douglas Kearney, and co-directors Cannupa Hanska Luger and Yuval Sharon—was produced in the Los Angeles State Historic Park to critical acclaim. When not writing or working, Aja can be found running the west Marin hills with her Australian Cattle Dog Dublin, training with horses, or weaving small pine needle baskets. She holds an MFA in Creative Writing from San Francisco State University and a variety of other degrees and credentials to certify her as human. Great Spirit knew it all along.
Roberto Harrison's poetry books include Tropical Lung: exi(s)t(s) (Omnidawn, 2021), Tropical Lung: Mitologia Panameña (Nion Editions, 2020), Yaviza (Atelos, 2017), Bridge of the World (Litmus Press, 2017), culebra (Green Lantern Press, 2016), bicycle (Noemi Press, 2015), Counter Daemons (Litmus Press, 2006), Os (subpress, 2006), as well as many chapbooks. With Andrew Levy, Harrison edited the poetry journal Crayon from 1997 to 2008. He is also the editor of Bronze Skull Press which has published over 20 chapbooks, including the work of many Midwestern poets. Most recently Harrison served as a co-editor for the Resist Much/Obey Little: Inaugural Poems to the Resistance anthology. He was the Milwaukee Poet Laureate for 2017-2019 and is also a visual artist. He lives in Milwaukee with his wife, the poet Brenda Cárdenas.
The former Queens Borough Poet Laureate (2010-2014), Paolo Javier was born in the Philippines and grew up in Las Piñas, Metro Manila; Katonah, Westchester County; El-Ma'adi, Cairo; Burnaby and North Delta, Metro Vancouver. He's produced three albums of sound poetry with Listening Center (David Mason), including the limited edition pamphlet/cassette Ur'lyeh/ Aklopolis and the booklet/cassette Maybe the Sweet Honey Pours. The recipient of a 2021 Rauschenberg Foundation Artist Grant, his fifth full-length book of poetry, O.B.B.—a (weird postcolonial techno dream-pop) comics poem that also includes illustrations by Alex Tarampi and Ernest Concepcion—will be published by Nightboat Books in the fall of 2021.
ATTENDING IN PERSON? We've updated our COVID policy.
Registration is required for in-person event attendance, as is a nominal ticket donation to hold seats. (Gallery attendance is limited to 15 audience members.) All attendees must show proof of vaccination or negative Covid test within 72 hours. Masks are required. Thank you for helping us keep our community safe. Each attendee must register individually.