Date
Jan 15 2022
Expired!
*POSTPONED* Poetry Reading: Franklin K.R. Cline and Destinny Fletcher
We have decided to reschedule this event.
Please check back for more information.
Poetry Reading with Franklin K.R. Cline, author of The Beatles' Second Album, and Destinny Fletcher, author of Black Girl Be Storm.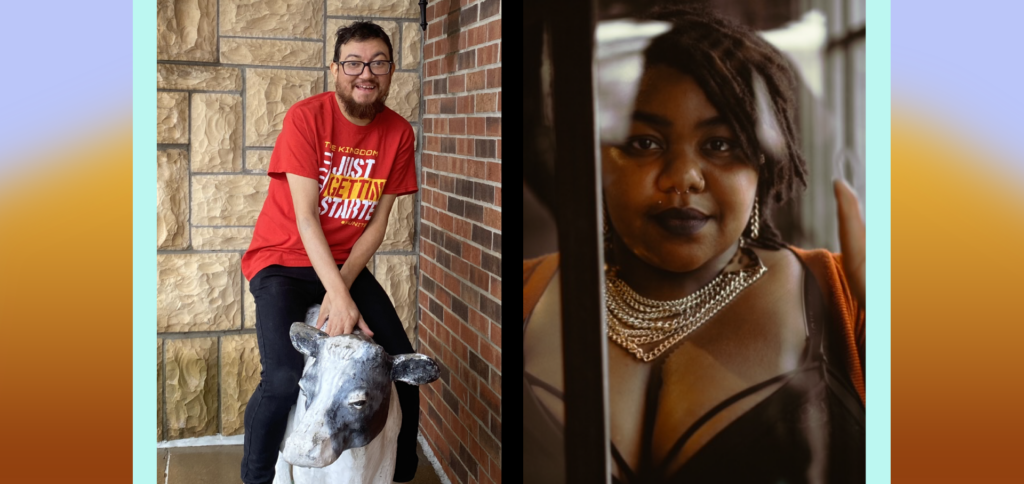 In-person at Woodland Pattern and live streaming via Crowdcast.
(Register to attend in person, below.)
ATTEND VIA CROWDCAST  $GIVE WHAT YOU CAN
Franklin K.R. Cline is an enrolled member of the Cherokee Nation. He is the author of So What and The Beatles' Second Album, both available via Vegetarian Alcoholic Press. He teaches English to eighth and twelfth graders in Kansas City, Missouri, where he lives with Six and Olivia.
Destinny Fletcher, also known as Deolinda Abstrac, is the author of the self-published poetry collections Black Girl Be Storm (2016) and Fireflies & Peroxide (2014). A spoken word artist, actress, advocate, and survivor, Destinny continues to rock the stages of the many cities she touches with her voice—representing womanhood, body positivity, and self-awareness. 
ATTENDING IN PERSON? We've updated our COVID policy.
Registration is required for in-person event attendance, as is a nominal ticket donation to hold seats. (Gallery attendance is limited to 15 audience members.) All attendees must show proof of vaccination or negative Covid test within 72 hours. Masks are required. Thank you for helping us keep our community safe. Each attendee must register individually.