Date
Jan 19 2023
Expired!
*POSTPONED* Poetry Reading: Juan Felipe Herrera
This is event has been postponed. We will share an update soon.
---
Poetry Reading in celebration of the new edition of Juan Felipe Herrera's Akrílica (Noemi Press, 2022). Some of the translators for this edition of Akrílica will join Herrera for this event, including Anthony Cody, Suzi F. García, and Farid Matuk.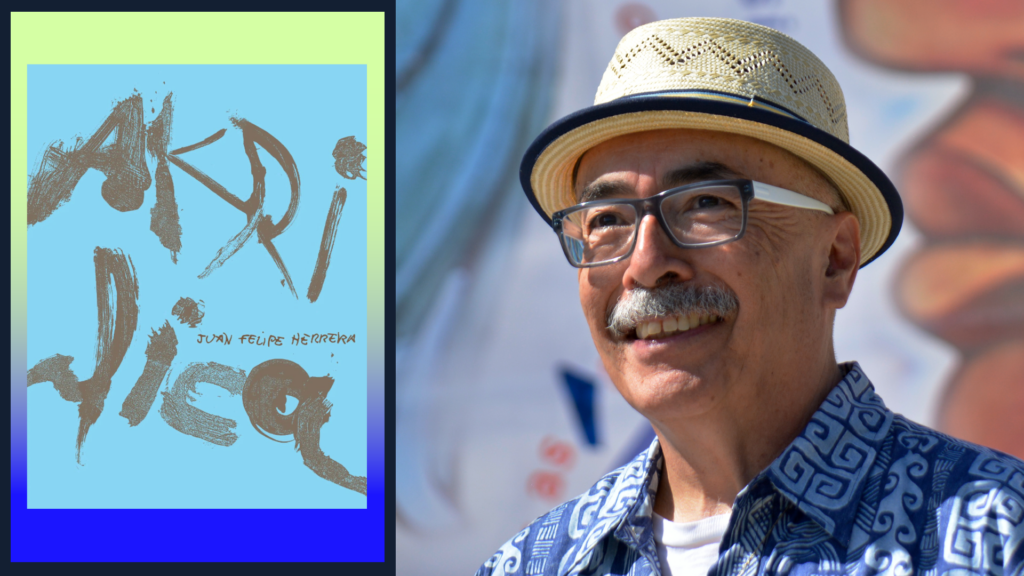 Originally released as a bilingual collection in 1989 by Stephen Kessler's Alcatraz Editions, Juan Felipe Herrera wrote the poems of Akrílica starting in 1977, occasioned by the energy and dialogue that he encountered upon meeting writer and co-conspirator Francisco X. Alarcón (1954–2016). 
From Noemi Press: Through a new interview, his own visual introduction, archival photographs from his travels across the Americas, and new art created in conversation with the collection, Herrera offers a rich set of references, inspirations, and influences that originally shaped Akrílica while also sharing his take on this singular book's place in his development as a poet and multimedia artist. 
This edition and translation of Akrílica arrives now to expand the political and artistic possibilities that form our current horizon. This project is not one of inclusion or recovery. This is a project of retrieval. We steal Akrílica away from literary institutions, away from the discipline of literature as such, and away from traditions of experimental poetics that should hope to claim it. Oriented toward the liveliness of the imagination, committed to fundamentally changing itself in order to meet the moment, Akrílica belongs somewhere else; it belongs in the hands of those finding one another in a gathering that has yet to take place.
Juan Felipe Herrera is the 21st Poet Laureate of the United States (2015–16) and is the first Latino to hold the position. From 2012–14, Herrera served as California State Poet Laureate. Herrera's many collections of poetry include Every Day We Get More Illegal; Notes on the Assemblage; Senegal Taxi; Half of the World in Light: New and Selected Poems, a recipient of the PEN/Beyond Margins Award and the National Book Critics Circle Award; and 187 Reasons Mexicanos Can't Cross the Border: Undocuments 1971–2007. He is also the author of Crashboomlove: A Novel in Verse, which received the Americas Award. His books of prose for children include: SkateFate; Calling the Doves, which won the Ezra Jack Keats Award; Upside Down Boy, which was adapted into a musical for young audiences in New York City; and Cinnamon Girl: Letters Found inside a Cereal Box. In 2018 he released another children's book, Jabberwalking, which focuses on turning your wonder at the world around you into weird, wild, incandescent poetry. Herrera is also a performance artist and activist on behalf of migrant and indigenous communities and at-risk youth. He runs the Laureate Lab Visual Wordist Studio at Fresno State.