Date
Nov 03 2021
Expired!
Poetry Reading: Lewis Freedman, Gabriel Kruis, & Jennifer Nelson *HYBRID*
Poetry Reading with Lewis Freedman, author of I Want Something Other Than Time (Ugly Duckling Presse, 2021), Gabriel Kruis, co-founder of Wendy's Subway and the author of Acid Virga (Archway Editions, 2020), and Jennifer Nelson, author of Harm Eden (Ugly Duckling Presse, 2021).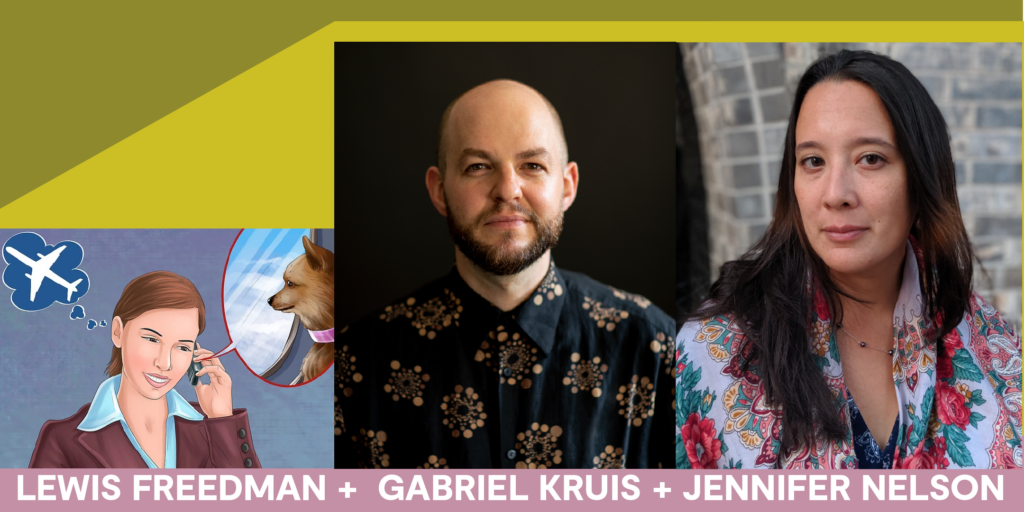 In-person at Woodland Pattern and live streaming via Crowdcast.
(Register to attend in person, below.)
ATTEND VIA CROWDCAST  $GIVE WHAT YOU CAN
Lewis Freedman is a poet who writes poems and also books of poems. A very recent (perhaps just this morning) and possibly hopeless interest in the poetics of vagueness and non-particularity leads him in writing this bio. What else does one say? The world, oof.
Gabriel Kruis is a poet, educator and arts administrator originally from New Mexico. He is a cofounder of Wendy's Subway and the author of Acid Virga (Archway Editions, 2020) and editor and contributor for Return to the Field (Wendy's Subway, 2021). His work has been published within A Perfect Vacuum, the PEN America Poetry Series, OmniVerse, the Brooklyn Rail, the Atlas Review, Frontier Poetry, among others.
Jennifer Nelson is the author of the poetry books Harm Eden and Aim at the Centaur Stealing Your Wife (Ugly Duckling Presse) and of Civilization Makes Me Lonely (Ahsahta). She teaches art history at the University of Wisconsin-Madison and is also the author of Disharmony of the Spheres: The Europe of Holbein's Ambassadors (Penn State University Press) and of the forthcoming Lucas Cranach: Artist of the Reformation (Reaktion Press).
ATTENDING IN PERSON? We've updated our COVID policy.
Registration is required for in-person event attendance, as is a nominal ticket donation to hold seats. (Gallery attendance is limited to 15 audience members.) All attendees must show proof of vaccination or negative Covid test within 72 hours. Masks are required. Thank you for helping us keep our community safe. Each attendee must register individually.