Date
Nov 18 2021
Expired!
Reading: Kelsey Marie Harris, Mikey Swanberg, travis tate, & Gina Tron *HYBRID*
A reading in celebration of Milwaukee-based Vegetarian Alcoholic Press, featuring Kelsey Marie Harris, Mikey Swanberg, travis tate, and Gina Tron, and organized by publisher and poet Freddy La Force. This is the first event of Small Press Appreciation, an ongoing series celebrating small-press culture and the groundbreaking role independent publishers play in making space for new writers and literatures.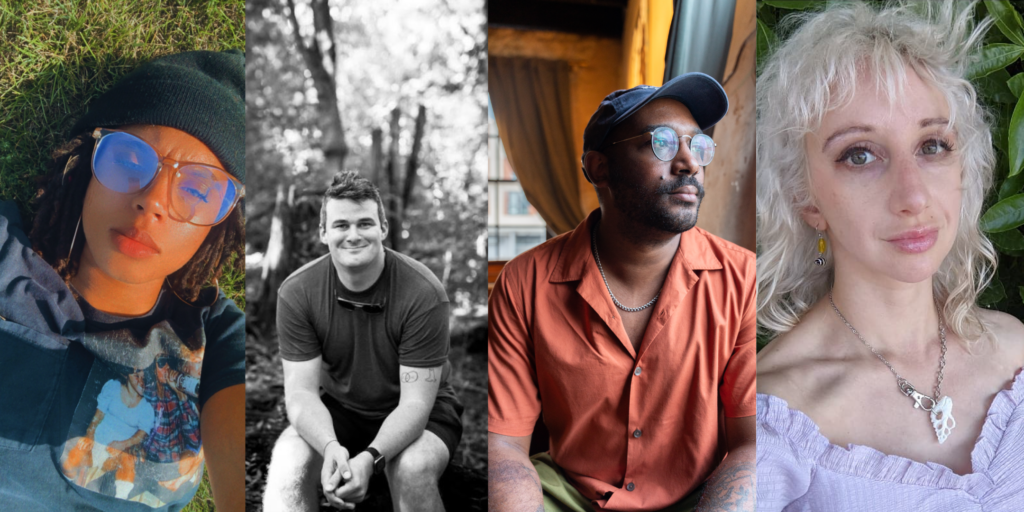 In-person at Woodland Pattern and live streaming via Crowdcast.
(Register to attend in person, below.)
ATTEND VIA CROWDCAST  $GIVE WHAT YOU CAN
Kelsey Marie Harris is a gardener, artist, poet, and pessimist in no particular order. She has two chapbooks, The Jolly Queef and Bury Your Horses as well as a full-length poetry book, Spit (verb) in my mouth published by Vegetarian Alcoholic Press. She also has a self-published chapbook, Sex Wound. Kelsey is a Bonk! volunteer and an editor for Really Serious Literature. She is also Racine, Wisconsin's 2020 Writer-In-Residence. Her poetry is fueled by anxiety, self-loathing, and chronic over-thinking. She has been published in The Rust Mill, Horror Sleaze Trash, Forklift Ohio, Dreginald, Screenshot Lit, and Pangyrus.
Mikey Swanberg is the author of On Earth As It Is (Vegetarian Alcoholic Press, 2021), Good Grief (Vegetarian Alcoholic Press, 2019), and Zen and the Art of Bicycle Delivery (Rabbit Catastrophe Press). He holds an MFA from the University of Wisconsin-Madison and lives in Chicago.
travis tate (they/them) is a queer black playwright, poet, and performer. Their plays include Seneca, MotherWitch, The Cove, and negro spirit/dream momument. They are currently a resident playwright of Theatre East's Writers Room and were a 2020-2021 resident playwright with Liberation Theatre Company. Their poetry has appeared in Borderlands: Texas Poetry Review, Underblong, apt, and Cosmonaut Avenue, among other journals. Maiden, their debut poetry collection, is out on Vegetarian Alcoholic Press. They earned an MFA from the Michener Center for Writers. You can find more about them at travisltate.com.
Gina Tron is the author of six books. Her debut collection of poetry, Star 67, was published in 2020 with Vegetarian Alcoholic Press, followed by a second book, Employment, in 2021. Her poems have been published in Green Mountains Review, Entropy, Tupelo Press, and Meow Meow Pow Pow. As a journalist, she's contributed to publications including The Washington Post, VICE, Daily Beast, and Politico. Her second and forthcoming memoir Suspect, won the 2020 Tarpaulin Sky book award. The Strand called her first memoir, You're Fine, a "best of the best."
ATTENDING IN PERSON? We've updated our COVID policy.
Registration is required for in-person event attendance, as is a nominal ticket donation to hold seats. (Gallery attendance is limited to 15 audience members.) All attendees must show proof of vaccination or negative Covid test within 72 hours. Masks are required. Thank you for helping us keep our community safe. Each attendee must register individually.