Date
Apr 21 2023
Expired!
Cost
$28 (plus tax and ticket fee)
Reading: Maggie Smith in conversation w/ Erika Meitner *IN PERSON*
Reading celebrating Maggie Smith's new memoir, You Could Make This Place Beautiful (Atria/One Signal, 2023), in conversation with Erika Meitner.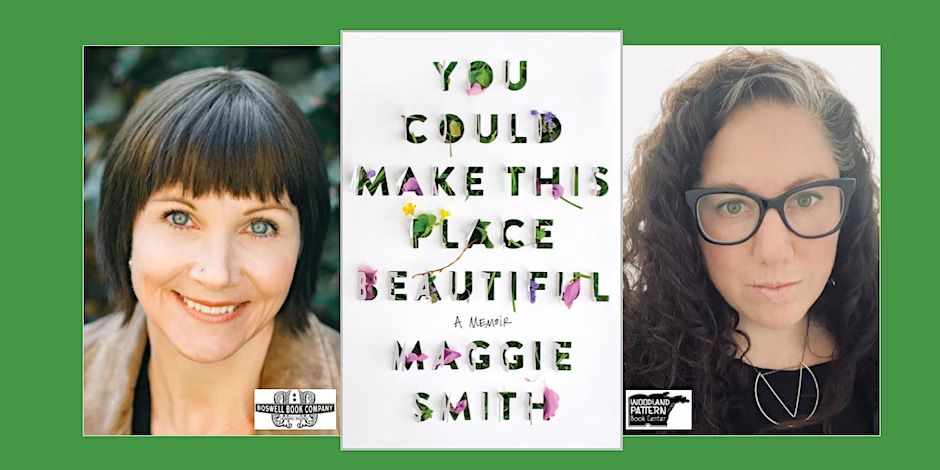 2559 N. Downer Ave., Milwaukee, WI 53211
Cost: $28 (plus tax and ticket fee)
Registration: maggiesmithmke.eventbrite.com 
---
In her memoir You Could Make This Place Beautiful, poet Maggie Smith explores the disintegration of her marriage and her renewed commitment to herself in lyrical vignettes that shine, hard and clear as jewels. The book begins with one woman's personal, particular heartbreak, but its circles widen into a reckoning with contemporary womanhood, traditional gender roles, and the power dynamics that persist even in many progressive homes. With the spirit of self-inquiry and empathy she's known for, Smith interweaves snapshots of a life with meditations on secrets, anger, forgiveness, and narrative itself. The power of these pieces is cumulative: page after page, they build into a larger interrogation of family, work, and patriarchy.
You Could Make This Place Beautiful, like the work of Deborah Levy, Rachel Cusk, and Gina Frangello, is an unflinching look at what it means to live and write our own lives. It is a story about a mother's fierce and constant love for her children, and a woman's love and regard for herself. Above all, this memoir is an argument for possibility. With a poet's attention to language and an innovative approach to the genre, Smith reveals how, in the aftermath of loss, we can discover our power and make something new. Something beautiful.
Maggie Smith is the award-winning author of You Could Make This Place Beautiful, Good Bones (Tupelo Press, 2017), The Well Speaks of Its Own Poison (2015), Lamp of the Body (2005), and the national bestsellers Goldenrod and Keep Moving: Notes on Loss, Creativity, and Change. A 2011 recipient of a Creative Writing Fellowship from the National Endowment for the Arts, Smith has also received several Individual Excellence Awards from the Ohio Arts Council, two Academy of American Poets Prizes, a Pushcart Prize, and fellowships from the Sustainable Arts Foundation and the Virginia Center for the Creative Arts. She has been widely published, appearing in the New York Times, the New Yorker, the Paris Review, Best American Poetry, and more. You can follow her on social media @MaggieSmithPoet.
Erika Meitner is the author of six books of poems, including Ideal Cities (HarperCollins, 2010), which was a 2009 National Poetry series winner; Copia (2014); and Holy Moly Carry Me (BOA Editions, 2018), which won the 2018 National Jewish Book Award in Poetry, and was a finalist for the Library of Virginia Award and the National Book Critics Circle Award in poetry. Her newest book, Useful Junk, was published by BOA Editions in April of 2022.