Date
May 12 2022
Expired!
Reading: María Elena Scott, Freesia McKee, and Angela Trudell Vasquez *ONLINE*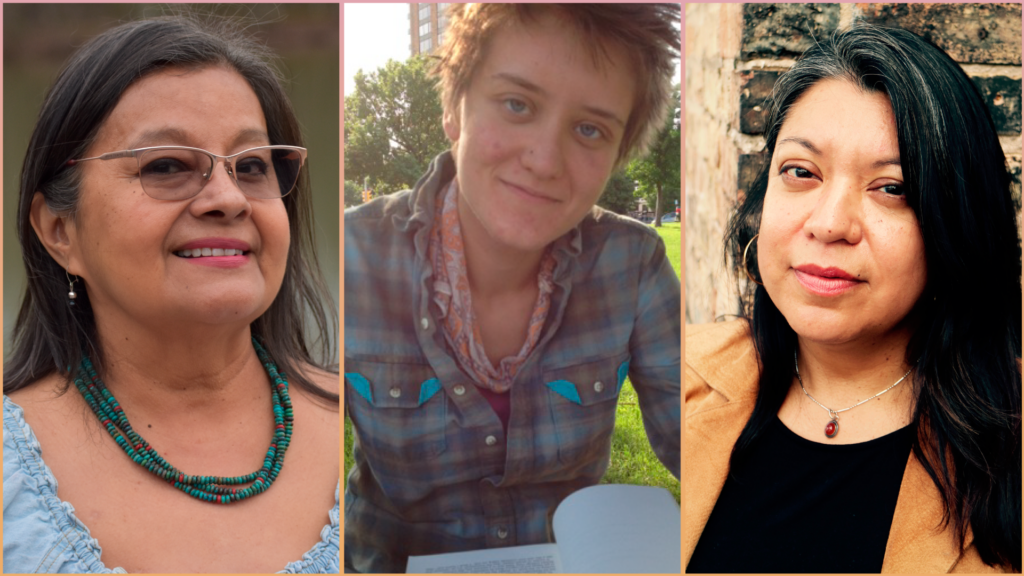 *ONLINE*

on Zoom
Reading in celebration of María Elena Scott's Love Letter to My Brother Juan, a Memoir in Prose, Poetry and Found Text (self-published, 2022), with Freesia McKee, and Angela Trudell Vasquez.
ABOUT THE AUTHORS
María Elena Scott is a Mexican-American bilingual writer and poet. She's a graduate of the University of Wisconsin–Madison in Education, and was a bilingual educator for 25 years. Her writing has been published and anthologized in such publications as Come Be a Memoirist: Woodland Pattern's Creativity and Aging Anthology; Each Ear Hears a Different Meaning: Voices of Woodland Pattern's Wednesday Writers; Great: Poems of Resistance and Fortitude, devoted to November 9, 2016; Yellow Medicine Review, a journal of Indigenous literature, art, and thought; and the Riverwest Currents.
Freesia McKee (she/her) writes poetry, creative prose, hybrid work, and literary criticism. Locally, Freesia's writing has appeared in About Place Journal, Burdock, Cream City Review, Eat Local :: Read Local, and Where I Want to Live. In sixth grade, Freesia attended poetry camp at Woodland Pattern. In 2021 she was a regular contributor to the Ploughshares Blog. She welcomes you to connect with her online at freesiamckee.com or through Twitter at @freesiamckee.
Angela Trudell Vasquez is a 2nd and 3rd generation Mexican-American writer, editor, publisher, and the current poet laureate of Madison, Wisconsin (2020–24). She holds an MFA in poetry from the Institute of American Indian Arts. She is the author of two poetry collections, both from Finishing Line Press—In Light, Always Light (2019) and My People Redux (January 2022). In 2021 she attended the Macondo Writers Workshop started by Sandra Cisneros, and became a fellow, also known as a Macondista. In 2020 she published and coedited a poetry anthology of Wisconsin poets, Through This Door, through her small press, Art Night Books. angietrudellvasquez.com