Date
Oct 21 2021
Expired!
Reading: Paula Goldman & Kathie Giorgio *HYBRID*
A reading with Paula Goldman, author of Late Love (Kelsay Books, 2020), and Kathie Giorgio, author of No Matter Which Way You Look, There Is More To See (Finishing Line Press, 2020).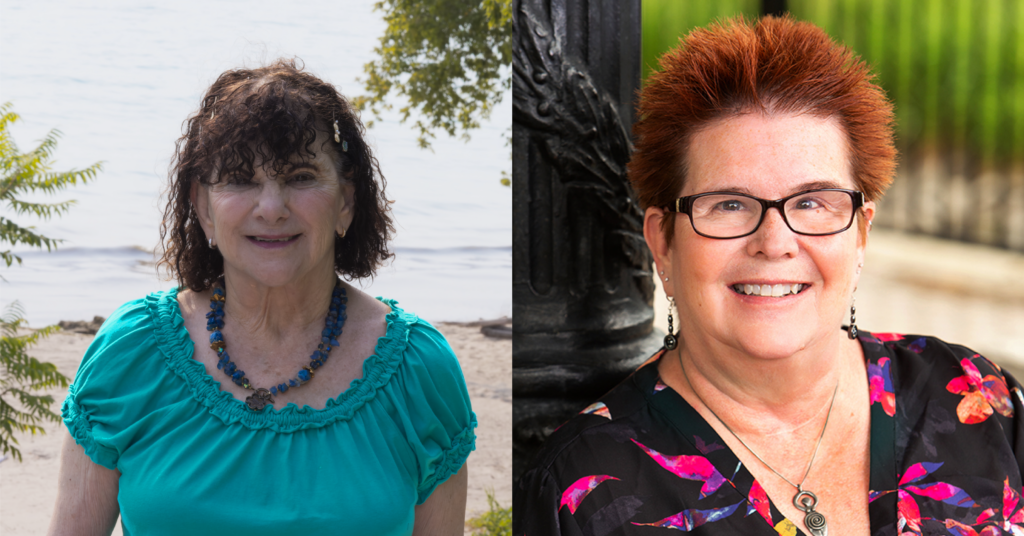 In-person at Woodland Pattern and live streaming via Crowdcast.
(Register to attend in person, below.)
ATTEND VIA CROWDCAST  $GIVE WHAT YOU CAN
Paula Goldman's previous book, The Great Canopy (2006), won the Gival Press Poetry award, and was honorable mention for the Independent Booksellers' Award. Her work has appeared in Oyez Review, Slant, Calyx, Passager, Ekphrasis, Rattle, Prairie Schooner, Manhattanville Review, Cream City Review, Comstock Review, Harvard Review, the North American Review, and other magazines. Her poems have appeared in the anthologies Boomer Girls, The Party Train: A Collection of North American Prose Poetry and, most recently, Conversation Pieces. She was first-prize winner in Manhattanville College's Inkwell Journal poetry competition and was also the recipient of the Louisiana Literature Award for poetry. Former reporter for The Milwaukee Journal, she served as a docent and lecturer at the Milwaukee Art Museum for 25 years. Late Love is her most recent collection of poems.
Kathie Giorgio is the author of five novels, two story collections, an essay collection, and two poetry chapbooks. A full-length poetry collection, No Matter Which Way You Look, There Is More To See, was just released in September 2020. Her new novel, All Told, will be released in late 2021 by Austin Macauley Publishers. A poetry chapbook, Olivia In Five, Seven, Five; Autism In Haiku, will be released in August 2022 by Finishing Line Press. Kathie has been awarded the Outstanding Achievement Award from the Wisconsin Library Association, the Silver Pen Award for Literary Excellence, the Pencraft Award for Literary Excellence, and the Eric Hoffer Award In Fiction. Her poem "Light" was a runner up in the 2021 Rosebud Magazine poetry competition, and her poem "Again" was the first-place winner in poetry for the 2021 Wisconsin Writers Association Jade Ring Contest. She is the director and founder of the international creative writing studio, AllWriters' Workplace & Workshop LLC.
Registration with Eventbrite is required to attend events in person.
In-person attendance will be limited to 15 audience members. All in-person attendees must wear masks.