Date
May 19 2022
Expired!
Reading & Conversation: Rescue Press *HYBRID*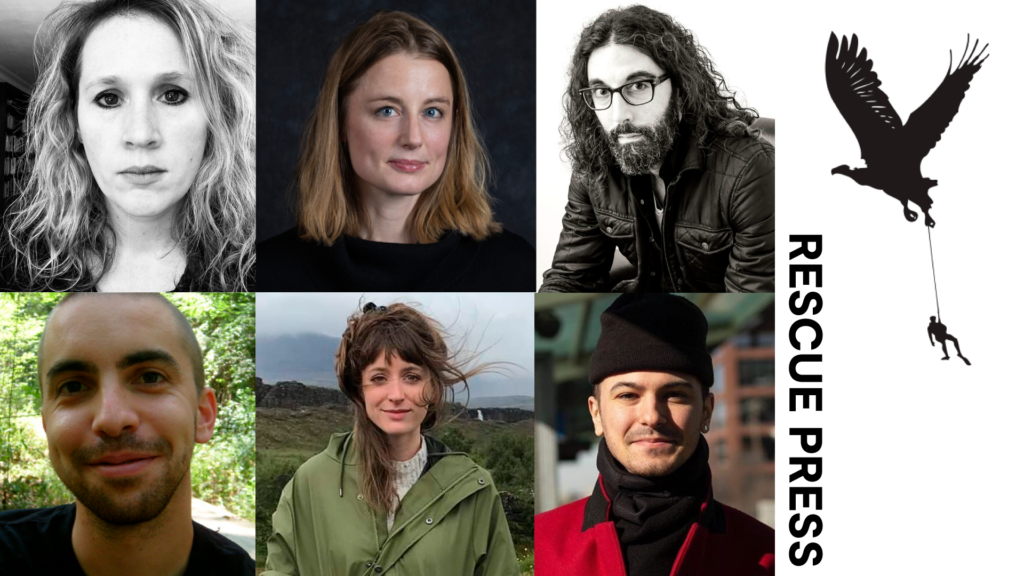 In person at Woodland Pattern and livestreaming via Crowdcast
ATTEND ON CROWDCAST $GIVE WHAT YOU CAN
Scroll down for in-person registration
---
An Evening with Rescue Press featuring readings and a conversation with Rescue's writers, editors, and designers. The program will begin with brief readings from each of the participants, which will be followed by a conversation focused on various aspects of publication. 
Featuring: 
Caryl Pagel (Editor-in-Chief and cofounder of Rescue Press; poet and essayist)
Daniel Khalastchi (Managing Editor and cofounder of Rescue Press; poet)
Sevy Perez (Creative Director, Rescue Press; artist and designer)
Zach Savich (Open Prose Editor, Rescue Press; poet and essayist)
Hilary Plum (Open Prose Editor, Rescue Press; essayist and fiction writer)
Alyssa Perry (Assistant Editor, Rescue Press; poet)
Rescue Press is an editor-run small press founded in the winter of 2009 in Milwaukee, halfway between Woodland Pattern Book Center and Lake Michigan. Currently based in Iowa City, Chicago, and Cleveland, with national distribution and readership, Rescue Press values experimentation, conversation, care, and idiosyncrasy.
Presented as part of Small Press Appreciation, an ongoing series celebrating small-press culture and the groundbreaking role independent publishers play in making space for new writers and literatures.
---
ATTENDING IN PERSON? PLEASE NOTE OUR COVID POLICIES
Registration is required for in-person event attendance at Woodland Pattern, as is a nominal ticket donation to hold seats. Gallery attendance is limited to 20 audience members. Masks are required. Thank you for helping us keep our community safe.