Date
May 27 2022
Expired!
Reception—And She Was Love: Paintings by Akindele John *IN PERSON*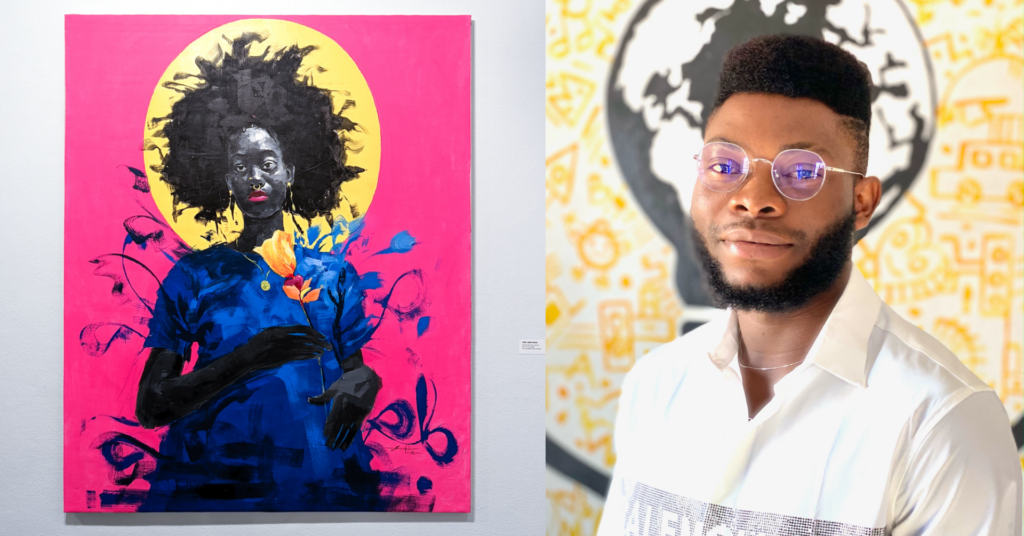 ON VIEW May-July, 2022 | In person at Woodland Pattern
---
Akindele John, born in 1995 in Ogun State, Nigeria, and currently living in Lagos, focuses his work on women from Africa and the African diaspora. He portrays them in contemplation, draping them in vibrant colors ranging from jewel tones to neon brights.
Akindele began his practice by experimenting with charcoal and liquid acrylic, media which helped him realize that figurative paintings lead us to a better understanding of ourselves as creative, interactive beings. The figures in his works gaze vividly back at us and also engage back-and-forth with one another in nonverbal negotiations.
Akindele's paintings are distinctive in their use of loose, playful lines and the softness of his brush's effects. His works pay particular homage to his African-Nigerian identity, with a strong focus on his gratitude for Black feminine expression and identity in African society. One striking feature of his work, for example, is how he captures nappturality, the hairstyles of Black women who have chosen to exclusively wear their hair in a natural, afro-textured state.
Over the past few years, Akindele has developed into a full-time studio artist working across a range of techniques and mediums. His mastery of figurative art brings forth the movement and moods of his subjects, and leaves viewers inspired and mesmerized.
This exhibition is facilitated in partnership with Genre: Urban Arts, with special thanks to Genre's Creative Director and Owner Nakeysha Roberts Washington, a Woodland Pattern board member.
---
ATTENDING IN PERSON? PLEASE NOTE OUR COVID POLICIES
Registration is required for in-person event attendance at Woodland Pattern, as is a nominal ticket donation to hold seats. Gallery attendance is limited to 20 audience members. Masks are required. Thank you for helping us keep our community safe.