Date
Dec 01 2022
Expired!
Reading: Tinker Greene and Tonen O'Connor *HYBRID*
Reading featuring Tinker Greene, author of Blue Flame Ring, and Tonen O'Connor, editor of Ryokan Interpreted.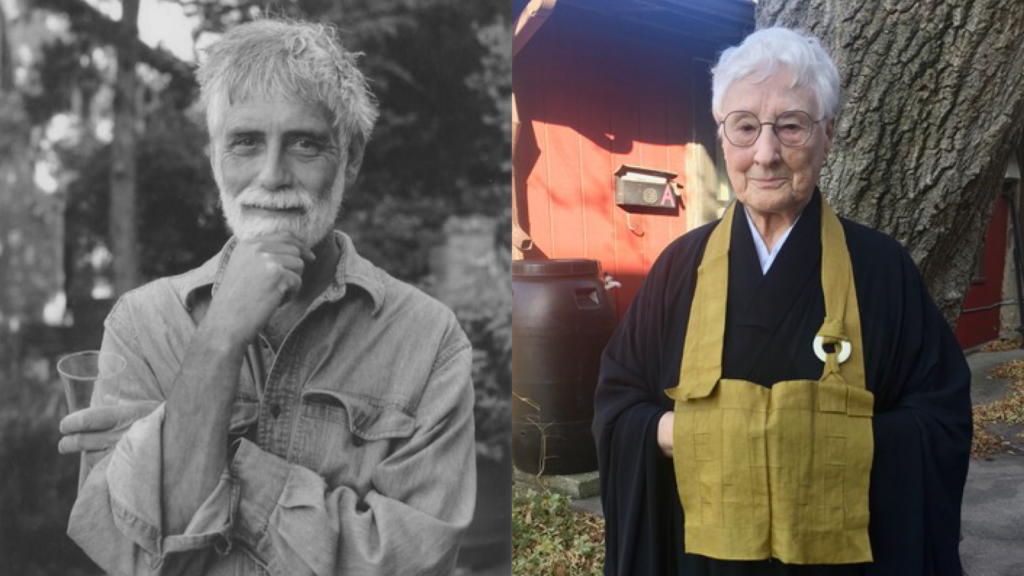 In person at Woodland Pattern and livestreaming via Crowdcast
ATTEND VIA CROWDCAST $GIVE WHAT YOU CAN
Register for in-person attendance below.
---
Tinker Greene grew up in Vermont, son of a magazine illustrator. He spent the sixties on the Lower East Side of New York, beginning his self-education and starting to write poetry. In the 1970s he moved back to Burlington to complete his degree at UVM and got involved in the poetry scene there. After moving to San Francisco in 1980, he participated in the early years of the New College Poetics Program with Robert Duncan, Joanne Kyger, Diane di Prima, and others, remaining an interested participant in the Bay Area literary scene for over thirty-five years. He now lives in Chicago where he gardens and owns a canoe. 
Tonen O'Connor spent 21 years as the Managing Director of the Milwaukee Repertory Theater, discovered Zen Buddhism thanks to the Rep's tours to Japan and in 1994 was ordained as a Soto Zen Buddhist priest. Receiving dharma transmission in 1999, she served as Resident Priest of the Milwaukee Zen Center for 12 years.  She began leading Buddhist programming within the Wisconsin Department of Corrections in 1998, continued in-person visits for 17 years and continues today via correspondence. Tonen's literary work includes translating plays from French for performance in Milwaukee and elsewhere, as well as translating the French version of Kodo Sawaki's Commentary on the Song of Awakening.  Her essays are included in The Hidden Lamp and The Eightfold Path and have appeared in the web publication, Ancient Way Journal.  Tonen conceived, edited, and wrote introductions for Buddhas Behind Bars and Dharma Gates Are Boundless.  She will be reading at Woodland Pattern from Ryokan Interpreted, by Shohaku Okumura, which she edited and for which she provided the introductory essay.
ATTENDING IN PERSON? WE'VE UPDATED OUR COVID POLICY! 
Registration is required for in-person event attendance, as is a nominal ticket donation to hold seats. Gallery attendance is limited to 20 audience members. Masks are required. Thank you for helping to keep our staff and community safe. Each attendee must register individually.
.