Date
Jan 23 2022
Expired!
Cost
$40 General ($35 Members)
Walking and Witness or, Public and Private Testimonies that Need to Be Heard: A Workshop with Rachel Levitsky *ONLINE*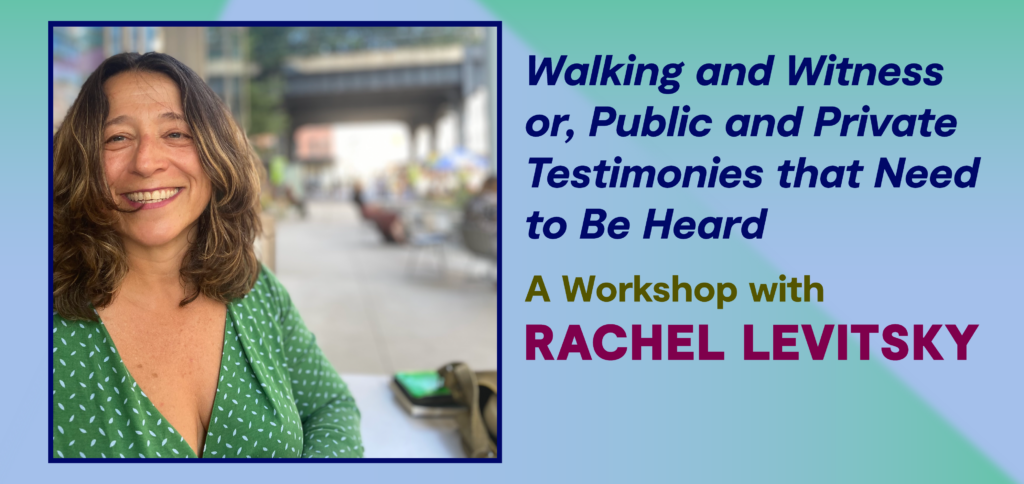 This workshop will be held online via Zoom, register at the link below.
REGISTER
APPLY FOR SCHOLARSHIP
A limited number of scholarships are available for this workshop. Writers who are low-income and/or of marginalized identities are encouraged to apply.
During the first months of lockdown, I hosted something called Variously Ambulatory Collective Walks. Quoting a title of a book by Eve Sedgwick, I wanted to find a way for us to share touched feeling—despite the barrier of the screen. What followed were sessions in which a bunch of us walked (with or without ambulation or leaving the room) at the same time, collected artifacts and writings, and then showed and told each other what we did. Consistently, we found that the shared walk artifact enabled us to feel more in each other's presence.
For the first half of this workshop, I will guide participants into a number of short writing activities. Some will include a kind of conceptual walking that doesn't require ambulation but may require the collection of an artifact. The prompts will alternate between shared/collaborative activities and generating private story-telling. Some of the prompts will be framed around the burning matters of economic and racial justice and the real political, health, and environmental crises of our time; some will be geared toward more eternal human questions and personal explorations. Each activity prompt will begin with a short reading by writers such as Renee Gladman, Aja Couchois Duncan, Marcella Durand, Judy Grahn, and others.
In the second half of the workshop, we'll gather our streams of writings, the public and collaborative and private, into a singular document or performance.
Rachel Levitsky is the author of The Story of My Accident Is Ours, Under the Sun (both out from Futurepoem, 2013 & 2003), NEIGHBOR (UDP, 2009, reissue 2020), Against Travel : Anti Voyage (Pamenar, 2020), and several other small press editions. In 1999, she-they founded the feminist avant-garde network Belladonna Series, which has since reincorporated as Belladonna* Collaborative, a non-hierarchical and variously organized collective making objects, thoughts, actions, events. Levitsky is a professor at Pratt Institute.