28th Annual Poetry Marathon and Benefit *ONLINE*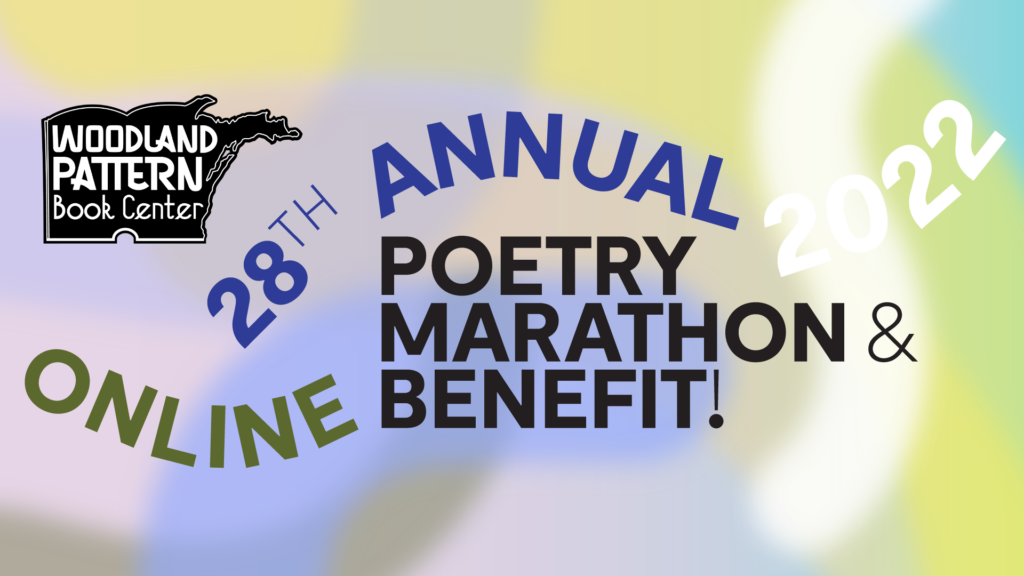 REGISTRATION + MORE INFOATTEND
​​For more than a quarter-century, poetry-loving folk from Milwaukee and the region have traditionally convened at Woodland Pattern on the last Saturday of January to participate in a Marathon reading. In 2021, unable to safely host the event in person at the book center, we opted for a live streamed version and—to compensate for not being in person—expanded the Poetry Marathon to 24 hours, ultimately welcoming 268 participants as well as more than 2,000 audience members who hailed not only from Milwaukee and Wisconsin but also from across the United States and 18 different countries. 
Now the time is nigh again, and once again we are planning for a 24-hour virtual Marathon with a few new twists thrown in! This year's event will take place on Saturday, January 29 and on Sunday, January 30. All 24 hours will be live streamed via Crowdcast. As usual, each poet will be allotted up to five minutes to perform their work. Like last year, celebrated small presses are being invited to curate hours in addition to those curated by local and regional poets and organizations. But please note—you do not have to be affiliated with any particular group to participate! Nor do you need to be far along in your practice or have experience performing your poems. The Marathon has always included people who are reading their poetry before an audience for the very first time. And always it's the grand mix of voices—of beginning, emerging and established writers; of people of various ages, cultural backgrounds, and life experiences—that makes the Marathon an authentic celebration of our shared humanity and the possibilities of language.
In addition to being an amazing event and an annual tradition, the Poetry Marathon serves as a community-driven fundraiser. Each reader is asked to raise a small amount of funds among family, friends, neighbors, co-workers, etc., and/or via social media, with a goal of $40 in pledges on each reader's behalf. Those contributions are then matched by a corporate or private sponsor for the hour and supplemented by major sponsorships. For years, funds raised through the Marathon in January have kept Woodland Pattern going strong, fueling our operations and making possible all of our programming for the year ahead. 
Thank you in advance for celebrating the many individual creative practices that compose and enrich Woodland Pattern's vast community.